In Star Bharat famous show RadhaKrishn, viewers will witness next what Krishna will do to stay with Radha.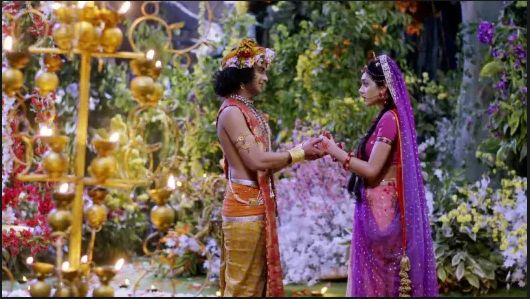 In the episodes it is seen after challenging all the men for dancing, Radha again challenges Balram to prepare a Maha Bhoj. Balram tries to get help from Krishna to defeat Radha in a challenge but Radha will make her effort to keep Krishna busy. Balram tells Krishna that they will prepare Kheer, poori and butter. Radha says he has to prepare lots of dishes for the bhoj. Krishna says they have to win this challenge at any cost. Balram asks Krishna to help him to prepare the dishes but Krishna hides when he sees Radha at the kitchen. Radha sees Krishna and takes him along with her. Krishna says Balram needs his help, Radha asks him to prepare flower basket for her. Balram come to the garden and again requests to Krishna to help him. Krishna asks him to go and he will come there soon.
Radha asks Krishna do he prepared the basket or not. Krishna showed basket to her and the basket falls on them. Radha and Krishna imagines about their romantic moments.
Now, in the upcoming episodes will see, Balram will be shocked when Vrishbhan makes a declaration after tasting his food. Here, Krishna will feel proud when witty Radha will manage to prove everyone that men and women are equal. There, kans will unable to start eating. Later, Krishna will make a plan to stay with Radha.
What plan Krishna will make to stay with Radha will be the next twist of the show. Before that how he helps Balram in winning the challenge will be interesting to watch. Keep watching Star Bharat show RadhaKrishn, Mon-Sat, 9pm and anytime on Hotstar.
Stay tuned with us for more updates.