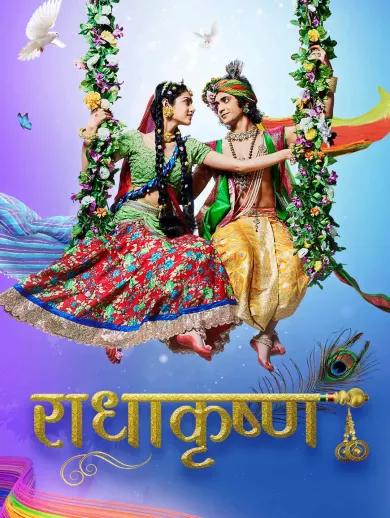 RadhaKrishnn 25th August 2020 Written Update on TellyExpress.com
Episode begins with Arjun and Draupadi went to bring water from a pond nearby. They saw a crocodile and Arjun shoo it away. Both of them start to take water from the pond together. At night, all are sitting together for dinner when Draupadi first served Arjun and sits besides him ignoring the other four pandavas.
Kunti thinks she should do the servings too and decided Panchali has to accept the other four also as her husbands. Krishna at night says I don't want to sleep on any special arrangements. I will sleep in the jungle. Krishna meets Radha in the jungle and says this journey is not only going to be mentally exhausting but it will be equally hard physically too. The biggest problem right now is Draupadi has five husbands.
She has to understand that. Krishna calls Narad for making Arjun and Draupadi aware about their act which is somewhere offensive. Narada says I will be elated to be part of this journey. He comes to the house of Pandavas as a monk and asks for food before blessing them. Draupadi says there is some foods that are remaining in the house, all of you can have it. She comes with the plate of food and served Arjun first.
Narada gets angry and says it is a sheer insult to me. He starts to work out from the place and said that I cannot have this food now. Krishna comes there and stop him and dance where are you going like this? He says I understand that Draupadi committed a mistake and she is apologizing for that as well so you need to be wise enough and forgive her for this. Narendra says this girl Draupadi reminded me of a stories I want to people to listen to it before eating the food. He says, years ago there was two demons named shumbh and Nishumbh. They are two loving brothers who does everything together and their strength is their unity.
Day is when god's blessing from Brahma after going through a hard-core meditation. Post that they started to destroy this beautiful creation of of gods and try to win all the three world. seeing this Brahma created a girl name tilottama protect the heaven and his creations from these two demons. one day they saw the girl near their house and both the brothers started to argue with each other about who should marry her?
she said I don't get impressed by looks but by power and strength. so whoever will be the most powerful person among you two will be my life partner. As a result, they both got killed due to a girl and their unity broke. as soon as the story answered the understand what he is trying to say and she just couldn't take it.
Precap – Arjun promises to destroy the jungle of Bhujang.