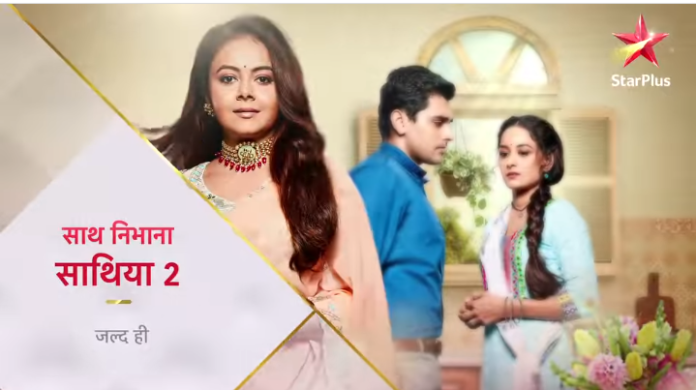 Saath Nibhaana Saathiya 2 4th December 2020 Written Update on TellyExpress.com
Episode begins with Groom's mother tells Gehna to walk so she can see how she walks and tells her to walk fast. Anant who came there stops Gehna and asks what's happening here. Before Radhika tells him anything Kanak interferes saying she tried to stop her aunt but she is not listening her. Pankaj says he and Cheten also against this.
Anant says so no one liked this so this alliance is not good for Gehna. Kanak says he misunderstood and says her aunt's son is really good match for Gehna its just that her aunt's thinking is little backward that's it. Aunt asks why everyone stopping Gehna from walking and asks are they hiding anything from her about Gehna. She asks their house daughter can walk properly or not. Hema says Gehna is not this house daughter.
Anant says she is more than a daughter for this family. He rejects that Groom for Gehna. Praful asks what happened. Radhika says since beginning Kanak supporting her aunt only. Kanak says she is elder so should respect her. Anant says he doesn't want to disrespect her and informs everyone about Groom's contract saying he can't take Gehna with him to abroad for next 2years so she has to live with his mother only in the village. Jamuna asks Kanak what is all this.
Anant says this marriage can't happen. Aunt gets angry and asks why they called them and leaves from there with her son. Kanak says she doesn't know about all this and just heard only praising about them. Anant says its not her mistake because she doesn't know that family directly and he can't stay silent because Gehna's marriage is Praful's responsibility so he enquired about them.
He says he will search alliance for Gehna. Kanak was about to say something but Praful interferes and says its about marriage so let Anant handle it and leaves from there. Hema mocks Kanak says her this plan also flopped like earlier ones. Kanak slaps her and warns her to think before talking infront of her.
Radhika was thinking something. Anant asks what is she thinking. She says so much happened in the house with Gehna and he brought her here to buy sarees. He says its agency and they will enquire about Groom and his family because he can't take any risk in this matter and says he shortlisted few guys for Gehna already.
Hiral tells Hema that she should not have behaved like that with Kanak and if she continued her behaviour like this then it won't be good for her. Kanak was doing kitchen work. Gehna asks why she is doing all this. Hiral says seems like Kanak started new act already.
Anant meets his friend who is handling the agency and discuss with him about the groom. Then they leaves to buy sarees. Jamuna says Kanak done nothing wrong. Praful says its not Kanak's mistake and gives 2lakhs to her saying she can handle Gehna's marriage preparations and Anant will take care of Groom. Anant announces his family that he found perfect match for Gehna. He says from now on everyone has to do their work because Gehna will leave this house after marriage.
Episode ends.
Precap – Groom's mother puts condition infront of Desai family.
Click to read: