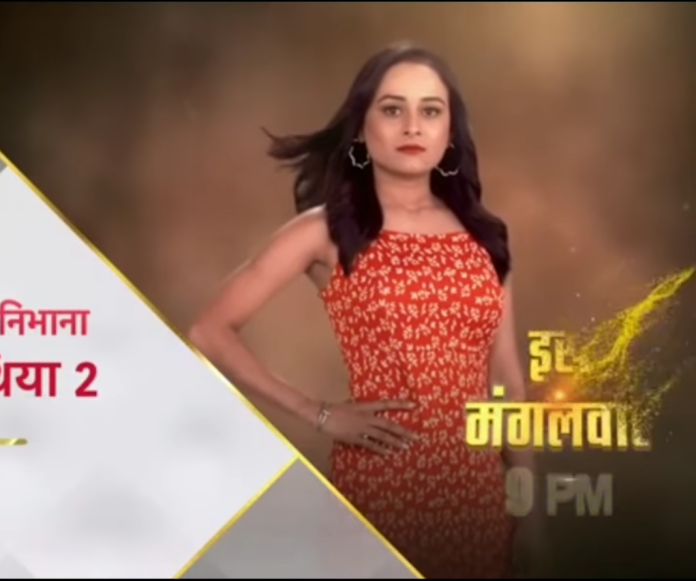 Saath Nibhana Saathiya 2 24th June 2022 Written Update on TellyExpress.com
Episode begins with Sarika tells Suhani that in 6 hours Gehna's game is over. Sikandar says that he destroyed all the proofs so even Kaddu bua can't save Gehna and moves towards his room. Meanwhile, Shreya searches the duplicate key of locker in Sikandar's room.
Sikandar comes there and taunts her for supporting Gehna. He asks her to think that what she will do once Gehna leaves the house. He enters the washroom. She notices mud in his shoes and she informs about it to Gehna. Gehna says that what if duplicate key of locker is in the garden.
On the other hand, Dada meets Jeweller and tells him that he brought a police officer with him. Jeweller gets scared hearing him. Surya disguises himself as police officer and comes there. He tells Jeweller that he came to arrest him.
Jeweller asks him to calm down and let's talk. He tells his assistant Deepak to bring lemonade for Surya. Surya shows Gehna's photo to him and asks him that if she came to his shop. Jeweller tells him that so many people comes to his shop so he don't remember.
Surya checks the register and asks Jeweller to tell the truth. He points at CCTV camera and asks for footage. He shows the handcuffs. Jeweller calls Security guard and asks him to show the CCTV footage to Surya. Dada murmurs to Surya that Gehna won't be in the CCTV footage. Deepak calls Sikandar and informs him about Dada and police officer's arrival. Sikandar warns him to not take his name at any cost and disconnects the call.
Suhani tells Sarika that it's time to bring a third person in between Surya and Gehna. She calls Sakuni and tells her everything.
Gehna and her gang searches in the garden but they does not find anything. Gehna says that she did not find anything yet so she is afraid that she can't prove her innocence. She adds that she can't back off now. She finds Sikandar's car key in the garden. She says that something is in Sikandar's car for sure. Shreya tells her that just an hour left. Gehna tries to open Sikandar's car but hides seeing Sikandar. He takes his wallet and goes inside.
Surya watches the CCTV footage but only back side is visible. He asks Jeweller that who is that lady. Jeweller tells him that he don't know that. Surya wonders that how he is going to prove Gehna's innocence.
Suhani, Sikandar and Sarika celebrates their success. Gehna and her gang enters the house. Suhani asks Gehna that if the latter did not left the house yet. Sikandar taunts Gehna. Dadi scolds Sikandar. Suhani asks Gehna to pack her luggage and leave. Gehna tells her that still she has few minutes to prove her innocence. Suhani tells her that she will throw her out of the house once the time is over.
Episode ends.
Precap – Gehna searches the proof in the office. She finds jeweller's card there. Someone touches her shoulder.
Click to read