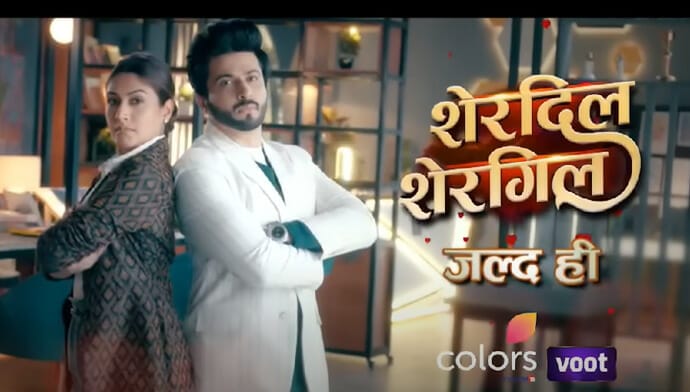 Sherdil Shergill new promo is out. Featuring Dheeraj Dhoopar and Surbhi Chandna, the show is about a carefree Raj and bossy Manmeet. The combination of strong female lead and cheerful male lead is deadly in itself. Two big faces of TV got featured to play such intense story is cherry on cake.
New promo of Sherdil Shergill is out. Raj's seductive dream about Manmeet distracts his focus from work. Back to reality; Manmeet asks Raj to focus. Raj tells to Manmeet that he is already focusing on her. He confessed he wants to get her attention. Raj also tells to Manmeet that she inspires him. Other side, Manmeet is focused and a mother too. She explains marriage is not necessary to become a mother as there are several other ways. Raj counters Manmeet. Manmeet and Raj are not on a same page. What brings them closer will be interesting to watch. See promo
Surbhi and Dheeraj jodi is already hit before the trailer. Fans cannot wait more for them to attack their screen with their outstanding performance. A social media user quoted "
Damn what an interesting promo 🔥😍 can't wait anymore"
"Seems like new story..progressive ❤️. Not like boring lovestory of regrassive ones"- wrote the second
https://www.instagram.com/p/ChSSpG4BOf6/
"Watching #DheerajDhoopar after almost two months . Ofcourse excitement level is high . #RKY #RajKumarYadav #Sherdilshergill"
"Wow very excited #SurbhiChandna #ManMeetshergill"
https://www.instagram.com/p/ChSSpG4BOf6/
Moving on, Dhereraj will be seen in upcoming season of Jhalak.Dhikhla Jaa 10. The dance reality will hit from 3rd September se Sat-Sun, 8PM on colors. Karan Johar, Madhuri Dixit and Nora Fatehi will judge the contenders of the show. Dheeraj Dhoopar's dancing video is breaking the interest already.
Coming to Surbhi Chandna, she was last seen playing Bani in Naagin 5. Ishqbaaz fame is one of the talented diva of the industry. Character Manmeet will surely add credit to her sucessfull career.
Share with us if you are excited to see Surbhi and Dheeraj in Sherdil Shergill.
Follow us for more TV serial news and updates