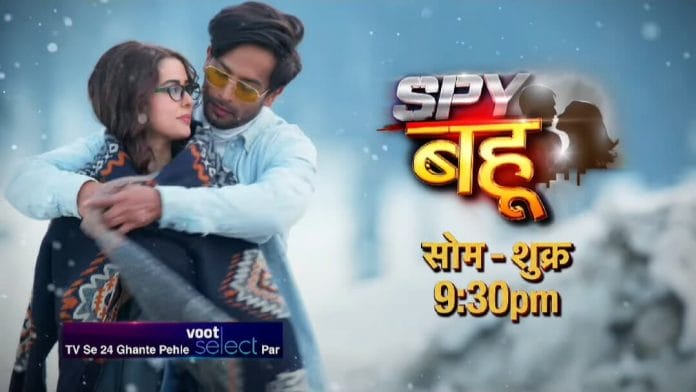 Spy Bahu 13th September 2022 Written Update on TellyExpress.com
The episode starts with Sejal thanking Yohan. He says its his duty to take care of Sejal and Hitchki. Sejal gets hiccups and Yohan says his day is complete now. Sejal tells Yohan to organise puja for Aarti's birthday. She says she read about his family on articles. Shalini comes there and tells them to come with her as she wants to show something. Arbaaz comes to meet Ahana and threatens to disclose her secret . She shows him 10 lakhs she had stolen for him and talks sweetly to him. He agrees to keep quiet. Shalini barges in the room with everyone.
Shalini tells everyone that guy is Ahana's boyfriend and she had caught them thrice before and explains the situations. Ahana denies to it. Shalini shows that Ahana's purse is full of money and she was giving it to him. Ahana cooks a new story and tells he is Ayuub. She addresses him as brother who grew up with her at orphanage. Ahana also lies that his mother is suffering from final stage cancer so she was giving him money. Sejal asks if its not wrong to take money from house without informing anyone.
Ahana lies and tells Veera had given her the money. Veera remembers how Ahana had said about exposing her secrets so she plays along and agrees that she had given 10 lakhs to Ahana but hadn't asked the reason. She sarcastically tells Ahana she should have said the reason as its good to help someone in need. Arbaaz leaves from there. Shalini feels frustrated that she failed once again and no one trusted her. Sejal comes there and says she believes her words and feels there is even more than this. Sejal proposes Shalini that they should work together to expose Ahana.
Shalini tells Sejal that she used to hate her before losing memory. Sejal tells let forgotten be gone. They shake hands together. Sejal sits beside unconscious Drishti and tells she misses her a lot. She clicks picture of the medicines kept there. Yohan comes and asks what she is doing. She says she was checking the medicines and tells about some vaid who can treat Drishti. Ahana comes there with medicine. Yohan stops her and tells she doesn't need to take care of Drishti. Ahana warna Veera that if any other doctors check on her they will know wrong medicines are being given.
Yohan tells from now Sejal and he will take care of Drishti which leaves both Veera and Ahana worried. Yohan tells Veera about puja in night school for Aarti's birthday. Veera understands its Sejal's idea and she hasn't lost any memories. Mrinal packs her bags and tells Sejal to take care of herself well as a life is growing inside her. The episode ends with Nandas doing hawan at night school while Shalini keeps an eye on Veera and Ahana and gives updates to Sejal.
The Episode Ends
Click to read