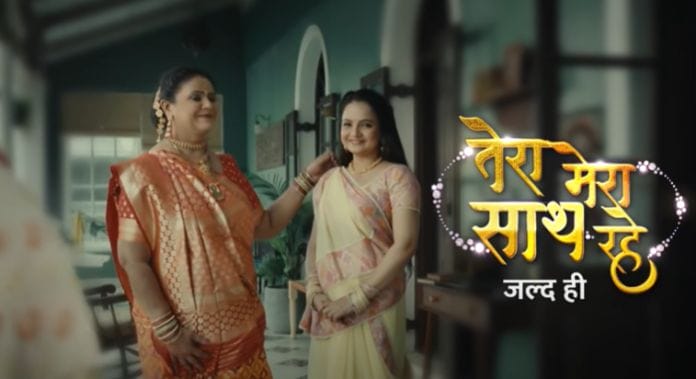 Tera Mera Saath Rahe 12th May 2022 Written Update on TellyExpress.com
The episode starts with Rajjo cries while cleaning the kitchen. Gopika asks the reason behind her crying. Rajjo says after Jigar went to boarding school the house lost its charm. Gopika says to Rajjo that Jigar went to boarding school so that he can get better future. For his bright future so she has to go through all this and she will be happy seeing Jigar's bright future. She consoles Rajjo.
She then feels dizzy and nauseous so she goes to the washroom. Rajjo worries about Gopika's health so she follows her. She hears Gopika is talking to the doctor inside the washroom about her health. She then hears Gopika tells the doctor to not to say this to anyone in the house as she wants to talk to Saksham first.
Rajjo misunderstands that Gopika is pregnant so she hurries to inform the Modi's. Gopika comes out of the washroom and tells that she needs to talk to Saksham first as she dont want family members happiness to get ruined. Mithila asks Subhadra to stay in her room and she have no problem staying in another room but Subhadra refuses saying the room belongs to her so she is the one who has to stay here.
Rajjo comes there and expresses her joy. They all gets confused and asks Rajjo the reason behind her excitement. Rajjo tells Subhadra Mithila and Minal they all are going to be grandmother's also she and Ashi is going to be an aunt. They all gets happy. Rajjo tells them that she over heard the conversation in which Gopika told the doctor she wants to inform Saksham first so we can't go and congratulate Gopika now so the family members decides to congratulate Gopika and Saksham after Gopika tells Saksham.
Saksham comes to the room and gets worried seeing Gopika. Gopika tells Saksham what happened earlier and when she is about to say what the doctor told the Modi's enters and happily says they are so happy after hearing the news about Gopika's pregnancy. Saksham and Gopika gets shocked. Gopika tries to say something but Saksham leaves the place so Mithila asks Gopika to talk to Saksham. Gopika follows him.
Saksham is sitting outside. Gopika goes to him. Saksham tells Gopika that he is not ready to become a father. He is very clear about his decision since day one of their meeting. The FB shows Saksham breaking Gopika's first ever drawing of them to have a family. He tells Gopika that there are so many things changed between them but he can't able to change this decision of his. Gopika gets hurt. She tells Saksham that she is not pregnant but Rajjo must have misunderstood the conversation she had with the doctor.
Saksham gets relieved and says to Gopika that she has no idea how he feels now. He also says that he loves her so much but after what he witnessed as a child that to have one kid Keshav left Mithila and married Minal and he saw his Mithila mother's hurt everyday also he is that very child so pleads Gopika to understand his decision. Gopika tells Saksham that she will clear the misunderstanding about her pregnancy to the family members. She also asks Saksham to forget the past and try to move on from it. She also tells him that she will never pressurise him into something which he don't want. She then leaves the place sadly.
Chirag brings the mangoes and says there is two good news one is Gopika is pregnant and another is its Mango season. Ashi and Munna challenges one another. Rajjo tells Ashi that Munna is good at having many mangoes but Ashi tells that she can able to beat him.
Then she suggests to have a Male versus Female competition and they all starts having the mangoes. Saksham and Gopika comes there. Gopika tries to clear the misunderstanding as no one let her talk. Gopika tells them finally that Rajjo misunderstand the conversation that happened between her and the doctor what the doctor actually told is her blood pressure level is dropped. Rajjo apologises to the family members. Chirag teases Saksham and Gopika.
Gopika excuses herself and goes to her room. Saksham decides to follow her but Keshav stops him and tells that he wants to talk to him about something important and says that they have to provide a proper work to Munna to which the latter says that he will not work under anyone but Saksham and Keshav takes him with him.
Chirag goes to answer the door and find the delivery man is bringing a mango box. He guides them to the store room where he sees the box is shaking so he comes to Saksham Keshav and Munna to tell them. They all goes. Saksham finds a letter inside the box. He gets shocked reading the letter. Keshav asks what's written in it. Saksham reads aloud whatever is inside is belongs to one of them. They all gets confused. A little girl comes out of the box and smiles at them. All four of them looks on shocked.
Precap: Keshav tells unless they find whose child is this they have to hide the girl somewhere else and not to tell anything about this to family members. They all persuades the kid to hide herself inside the box but the girl remains stubborn. Gopika decides to make something using mangoes so she enters the storeroom and looks on confused.
Click to read