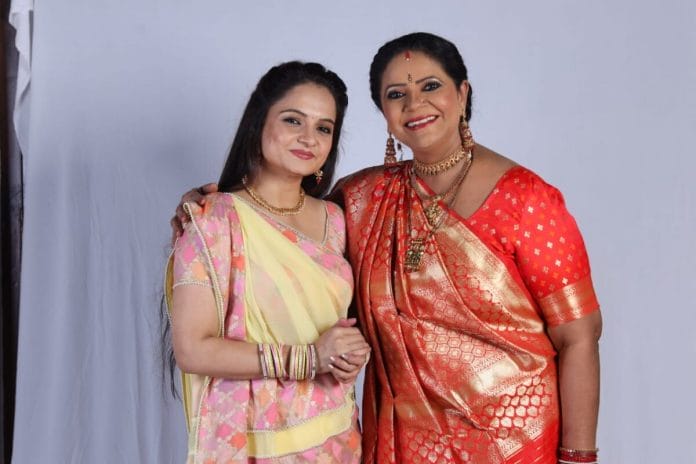 Tera Mera Saath Rahe 7th June 2022 Written Update on TellyExpress.com
The episode starts with Shradha and Modi's wait for the results. Keshav tries to leave but Mithila stops him so she tells that he is going to make a urgent call and leaves the place. Mithila tells that she is getting pain so she will walk for few minutes then return and leaves. Ashi also says everyone she is going to have coffee as she is feeling sleepy then leaves the place. Someone opens the door of hospital room and tries to change the report but Gopika and Shradha enters the room.
Gopika stops the person from changing the report. Ashi is the one who tries to change the report. Gopika asks Ashi what is she doing here instead of going to have a cup of coffee. Ashi remains silent. Gopika tells the moment she saw her using her left hand to write the letter she has grown suspicious of her that's why she kept watching her every move now she catched her red handed. She then drags Ashi out of the room saying the family members has to get to know. Everyone gets shocked seeing the way Gopika dragging Ashi. Chirag and others asks Gopika why she is dragging Ashi like this.
Gopika asks Ashi is she going to tell everyone the truth or she has to tell everyone. Ashi remains silent. Chirag tells he dont understand what's happening here. Gopika asks Ashi what she is doing the room where the DNA report is kept. Chirag tells Ashi went to have a coffee only. Gopika tells everyone its Ashi who wrote the letter and now she get caught. Everyone gets shocked. Mithila asks Ashi that whatever Gopika said is true or not. Ashi shouts that it's true. Mithila slaps Ashi. Chirag forcibly takes Ashi's hand and demands her to say why she did this all. Minal tells that she can't believe Ashi could stoop this low.
Ashi cries and tells Chirag that she did all this because he is thr reason behind her doings. Everyone gets confused. Gopika tells Ashi she is the one who did all this then why she is accusing Chirag unnecessarily. Ashi says its because of the indifferences the family members shows on her and Chirag. She then asks Chirag that he and Saksham is brother's right then why its Saksham who is taking all the decisions related to family and business and why not him. She further says that the family members cares for Saksham and Gopika only not them even if they leaves them they don't care or miss their presence because both her and Chirag is no one to the family. She tolerated all this but one day she received Shradha's letter and learnt Saksham have a baby of his own so she gets scared the love which they are getting that will also soon disappear so she wrote a reply to Shradha.
She also says that even after Kesari entered the house she kept her mouth shut even though she knows the truth only hope that Kesari will leave the house and they dont have to suffer but her fate really is bad that's why it's all happening. She further says the family members may say both Saksham and Chirag is equal to them but it's not true because they will always choose Saksham over Chirag shocking everyone.
Gopika goes to Ashi and tells her that each and everything she does she thinks about her likings and make it according to it. She also says that the family members asked Saksham to take decisions its because Chirag is the youngest and they don't want to put a burden on him.
Saksham tells Ashi that he never thought she will misunderstand their love for Chirag and her like this and says whatever he has belongs to Chirag also she always get equal amount of respect Gopika received from the family members which will continue the same. Ashi realises her mistake so she pleads Chirag to forgive her but the latter refuses. She apologises to everyone. Mithila tells Ashi she forgives her because this is the first time she did this huge mistake and asks her not to repeat it.
The doctor comes there and says the report is here. Gopika takes the report in her hand. Saksham asks Gopika to tell everyone the report is negative. Gopika opens the report and gets shocked. Saksham demands Gopika to tell everyone he is not Kesari's father and whatever Shradha said is not true. Gopika tells that Shradha is true because the report states Saksham is Kesari's father shocking everyone. Saksham Keshav and Minal sees the report. Chirag pleads the doctor to cross check the theory but the doctor says he is sure the report is true. Munna holds doctor's shirt and tells him his sister's life is going to ruin so asks him to check again.
Mithila separates Munna from the doctor and she apologises to him for Munna's behavior. She then asks the doctor do the test once again. Keshav tells it's not necessary and asks the doctor to leave. He then tells that Shradha is right and how many times do they think Shradha has to prove this. Minal gets angry but remains silent. Gopika leaves the place. Saksham decides to follow her but Mithila stops him saying that Gopika need time alone to process these all so asks him to give her some time. Gopika goes to the temple inside the hospital and asks what she did because of which she get such punishment. Since childhood she wanted a family which she thought she get it through Saksham but now they also snatched from her this way and cries.
Saksham goes to Gopika and pleads her to forgive him. He tells that he don't remember anything. Gopika asks Saksham to think what she must be going through. He always told that he don't want a child yet he have his child. Jigar mocks Kesari saying her mother and father isn't married while playing games. The Modi's comes to the house with Shradha. Kesari demands Shradha to marry Saksham but the latter refuses and slaps Kesari. Kesari hugs Gopika and cries. Gopika hugs and thinks that she don't know what she has to do now. The family members looks on worried.
Precap: Gopika tells the family members that she made a promise to Kesari that her parents wedding will take place. Everyone gets shocked. Gopika further says Saksham and Shradha's marriage will take place within two days shocking Shradha and the family members.
Click to read