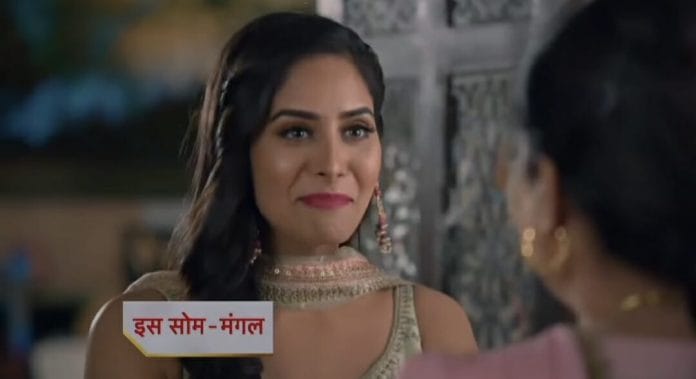 Teri Meri Doriyaann Spoilers, Upcoming Story, Latest Gossip , Future Story, Latest News and Upcoming Twist on tellyexpress.com

StarPlus TV new show Teri Meri Doriyaann serial is witnessing some major turning points where Baba predicts Santosh's daughter's future.

As reported earlier Manveer asks Seerat to have food with them. Seerat agrees. Everyone goes inside. The guard doesn't allow Keerat and Sahiba inside and calls them useless. Keerat gets mad and shouts at them. Seerat and Angad hear the voice coming from the gate. Seerat understands Keerat's voice and thinks she may get exposed if the truth comes out.
Angad asks Seerat to go inside and says he will check what's happening near the gate. Seerat says she stopped to be with him and requests that she will come out with them. Angad agrees.
Angad and Seerat come out. Angad asks Guard what's happening. Guard says 2 girls try to trespass the house without permission but we stopped them.

Santosh welcomes Baba to their house and asks him to come inside and predict Seerat's future. Baba says your middle daughter is the key that unlocks your family's fortune as she is selfless and near to god and she will be the richest out of all your daughters. Santosh asks what about Seerat? Will she get married to Angad?
Baba says Seerat has to see lots of hurdles in her marriage phase. Santosh asks him for a remedy to clear the hurdles. Baba says Sahiba will take care of her sisters and she won't leave them.

Angad warns Sahiba to get jailed if she won't leave. Sahiba says to Angad 'She came here for work and she won't get scared of the police. They argue. Seerat says to Angad she will manage Sahiba and sends him inside. Seerat goes to Sahiba and talks to her.
Angad thinks why Seerat is taking so much time. He tries to go out but Manveer stops her and asks what happened. He says how Sahiba tried to create a scene. Manveer asks what Seerat is doing with Sahiba.

In the upcoming episode, viewers are going to witness Santosh asking Seerat what happened at Brar's house. Seerat says a miracle happened and they invited dad and you for a meeting and it's about to talk about my alliance. Santosh feels happy. During the Lohri celebration, flower garlands fall on Sahiba and Angad.

Will Seerat get engaged to Angad? Will Garry be able to snatch Seerat?
All these questions will be answered in the upcoming episodes.
To know what will happen next in your favorite show, keep checking this space for new and exclusive updates.