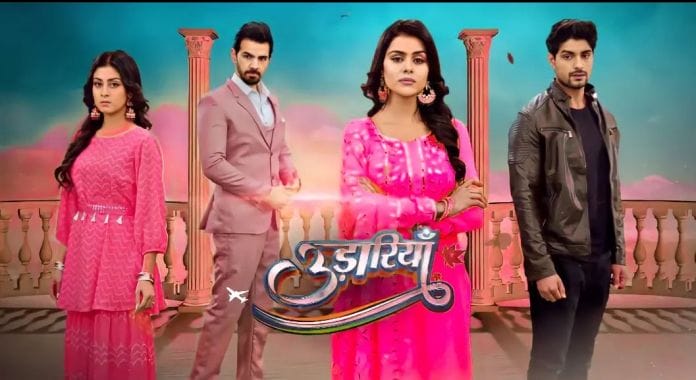 Udaariyaan 7th February 2022 Written Update on TellyExpress.com
The episode starts with Jasmine asking Fateh what he is going to gift her. Jasmine says that he is a simple teacher and now he resigned it too, so he can't give her any costly gift. She asks Fateh to promise that he will give her what she wants when she will ask him. Fateh nods yes without any option. Jasmine calls Amrik ti click few few photos. Mahila says to Simran that she has to give her favorite ring to Jasmine. Simran says that family's peace is important and asks her to leave her anger. Fateh hears this and leaves from there angrily.
Rupy and Satti talk about Tejo. Satti wants Tejo to marry Fateh. Rupy says that if Tejo and Jasmine stays under same roof, Jasmine will make Tejo's life hell. Satti says that Fateh and Tejo can stay in some other place. Rupy says that Fateh isn't suitable for Tejo. Fateh sees Tejo outside their house and goes to her. Tejo gives him the principal's letter and says that he still has his job. Fateh reads the letter and gets happy. He thanks Tejo and says that she always brings ray of hope for him. Jasmine is in her room and rejoices her victory. She vows to trouble the Virks and separate Fateh and Tejo forever.
Tejo hopes that Jasmine will calmed down now. Fateh says that Jasmine won't. He says that all think that he is free after Amrik married Jasmine, but he can't breathe in peace. Simran meets Tejo and hugs her. She asks Tejo and Fateh to get married. Mayi comes to Tejo and hugs. She takes Tejo in saying that family will get happy on seeing her. Tejo meets the Virks and takes Biji's blessings. Tejo says that she has come to give college's letter. Fateh says that thankfully the principal didn't accept his resignation letter, he can still coach. He says to Tejo that he will rejoin the college from the next day.
Jasmine arrives there and taunts Tejo saying she has finally come. Jasmine says that Fateh hasn't gifted her anything for her mooh dikhai ceremony, but he gave her a promise which he is going to fulfill right now. Jasmine asks Fateh to throw Tejo out of the house forever. Fateh loses his cool when Jasmine asks Kushbeer to shut his mouth. Gurpreet calms him down. Fateh warns Jasmine to be in her limits. Jasmine asks Fateh to throw Tejo out of the house if he doesn't want her to harm his family. Jasmine holds Tejo's hand and says that she understands all her schemes and won't get her successful in them.
Fateh warns Jasmine to leave Tejo's hand. Jasmine pushes Tejo and she falls on the ground. Jasmine says that she bans Tejo's entry at the Virks hereafter and insults Tejo. Fateh shuts Jasmine's mouth and says that Tejo will be always a part his family. He asks Jasmine who she's to throw Tejo out of the house. Tejo holds Fateh's hand and gets up. Jasmine mocks Fateh and Tejo. Jasmine says that Tejo must be happy that she got married to Amrik and her root is free now. Jasmine says that it's not easy to trap Jasmine. She says that this is her house and says to Tejo to get out. Fateh reminds Jasmine that they own the half property, so Tejo can here whenever she wants and Jasmine can't do anything.
Kushbeer says that Tejo is this house and she can come to this house whenever she wants. Gurpreet requests Jasmine to leave Fateh and Tejo. Jasmine asks that how he can let them meet them when her life's aim is to destroy Fateh and Tejo's. Tejo says that she has come to give principal's letter to Fateh and to know how the family is doing. Tejo adds that Jasmine can't stop her from meeting anyone. Jasmine blackmails the Virks with Amrik. She says to Amrik to ask Tejo to leave. Amrik requests Tejo to leave and asks her to never come back. Tejo says to Jasmine that she got fulfilled her stubbornness today, but it won't happen everytime. She can never get Fateh and this is also destiny's decision. Jasmine throws Tejo out of the house and shuts the door at her face.
Angad sees Tejo crying and drives off in her scooty. Angad phones someone and asks to get the papers ready fast. Simran and Mahi are scared that Jasmine will thow them out if the house too. Fateh pacify them. Tejo tells her family about what Jasmine has done. Dadi wants to confront Jasmine and teaches her lesson, but Rupy stops her saying Jasmine won't listen to them. Rupy asks Tejo why she keeps going to the Virks and getting insulted. Tejo says that she's not doing anything wrong and says with determination that she has to find a solution for this problem.
Later Navraj tells Tejo to be in touch with the Virks through video call as Jasmine banned from going to the Virks house and not from meeting them. Tejo thanks Navraj. She says that she can keep the Virks encouraged like this and also can keep an eye on Jasmine. She gets determined to find a solution. Kushbeer gets angry on seeing a news in the newspaper. He tells Kushbeer that it's written that Fateh is has done fraudulent in the name of marriage. He left Jasmine without marrying in the wedding mandap two times. Satti and Rupy read the same news and are ashamed of Jasmine's act.
Satti shows the newspaper to Tejo. The latter gets shocked reading it and worries about Fateh. Kushbeer is also worried about Fateh and wondered what is happening in the college with Fateh. At the college Fateh gets shocked on seeing people protesting against him and asks them what he did. They gave the newspaper. Fateh gets shocked reading this.
The episode ends.
Click to read