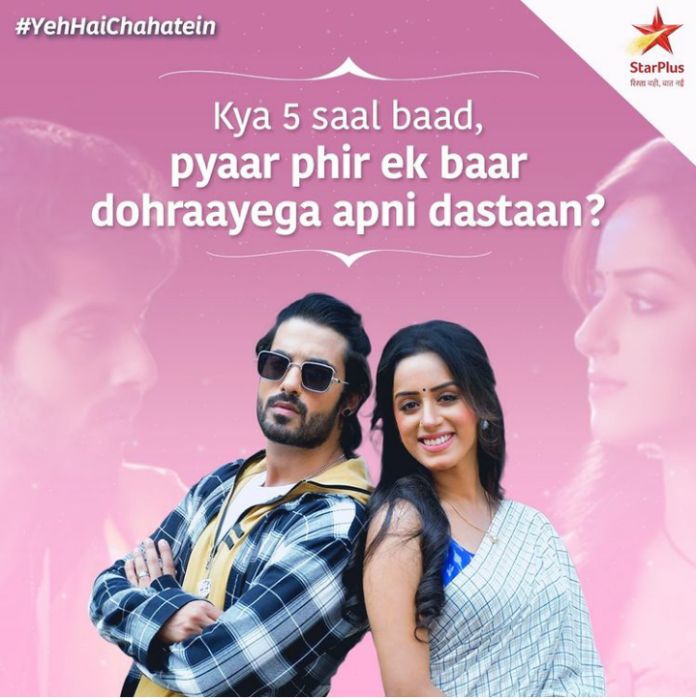 Yeh Hai Chahatein 5th August 2022 Written Update on TellyExpress.com
Episode begins with Ruhi tells Rudraksh that training part 2 is pending. She takes him to garden. Rudraksh notices the gardener there. Saaransh tells Rudraksh that it's practical class and gardener will teach him gardening. Kids sits on the table. Gardener teaches gardening to Rudraksh ( Golmaal song plays in the background ). After some time, gardener tells Rudraksh that now the latter can work as gardener and leaves from there. Kids hugs Rudraksh.
In the college, professor announces that he is going to make a group of two people for assignment. He says that they have to compose a duet song. Raj and Pihu becomes a pair for assignment. Class gets over.
Raj returns the tiffin box to Pihu. He tells her that laddus were tasty. She tells him that she knows that he don't want to become her friend so he must be uncomfortable with their pairing too so she will change the pair by talking to the professor. He tells her that no need of that because he don't have any problem in working with her.
She gets shocked hearing him. She asks him that what's the reason of this sudden change. He tells her the dialogue which Rudraksh told him. She recalls that how she told him that kind of dialogue. He recalls that how Rudraksh told him that dialogue. He thinks that he can't tell about it to her. He praises her and he hand shakes with her.
On the other hand, Rudraksh reaches Armaan's home in disguise with kids. Saaransh gives bluetooth to him. Ruhi says that Rudraksh will get gardener job for sure. Rudraksh realises that he has to compete against others to get the job. He asks kids that if he has to give interview.
Ruhi asks him that what is his problem. He tells her that, they are real gardeners and they knows everything. She tells him that he also learnt gardening. Saaransh tells Rudraksh that it's not a job but a chance to bring Preesha home. Kids motivates him.
Raj and Pihu starts working on the assignment. She sings bad and she says that she don't know singing. He asks her that why she joined music class. She tells him that she joined music class to become his friend. He tells her that music is God for him and the projects and assignments are important for him. He says that she has to learn music so he will teach it. He teaches music to her.
Meanwhile, Rudraksh gives an interview. Kanchan gets impressed with Rudraksh's answers. She tells him that he is old and she don't think that he can take care of her garden. She adds that she thought like that but he impressed her so she want an experienced gardener like him.
Preesha comes there and learns that Kanchan hired new gardener. Kanchan asks Rudraksh to come tomorrow. He tells her that he can't travel daily. He asks her about servant quarter. She tells him that he can stay in servant quarter from tomorrow. Later, Rudraksh tells Sharda that he got the job. Sharda says that even God wants Preesha to return her home.
Episode ends.
Precap – Kanchan asks Rudraksh to wake up. He gets ready in hurry and he opens the door. She gets shocked seeing something.
Episode begins with Preesha opens the washroom door and she goes inside. MK thinks that Preesha will scream if Rudraksh did not escape yet then. On the other hand, Rudraksh recalls how he escaped from washroom through window.
He spots Armaan outside MK make-up studio. He realises that he is in gardener make-up. He decides to check that Armaan can identify him or not. He covers himself with car cover and walks beside Armaan. He gets relieved that Armaan did not identify him.
Armaan calls him and tells him that the latter dropped his handkerchief. Rudraksh changes his voice and says that, that's not his handkerchief and leaves from there. He meets his kids and Vanshika. He informs them that Preesha did not see him. He reveals that how Armaan did not identify him. He says that Ruhi's plan worked. They leaves from there.
Later, Rudraksh tells his kids that he is tired so he needs to take rest. He asks them to go to sleep. Ruhi tells him that they can't sleep tonight. She says that Rudraksh did not become a gardener yet. Saaransh says that Rudraksh has to learn to walk and talk like a gardener. He adds that Rudraksh needs training. Rudraksh says that he don't need any training. Ruhi tells him that he has to live at Armaan's house so this training is important.
Click to read