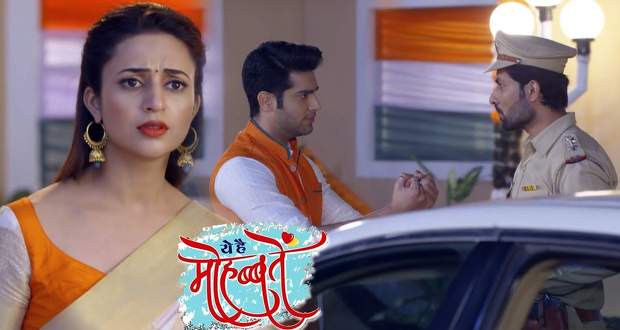 Star Plus' one of the longest running popular show 'Yeh Hai Mohabbatein' starring dashing Karan Patel and charming Divyanka Tripathi will see some buzzing actions in its coming episodes. Raman will have his plan in action to trap Sahil in with the package and CCTV footage installed in Ishita's office. He will go to the police station to report against Sahil with the proof in his hand getting his plan in full swing.
Meanwhile, Aliya seeks blessings from Ishita for her new steps in life. Ishita is however very much worried about how the plan will go whereas Raman cleverly implements his scheduled plan on getting Sahil behind the bars.
In the recent episode, which largely centered around CCTV footage and Raman's plan, Sahil is now seen being aware of him being watched in Ishita's office or so does he speculate. Now what's interesting in the story next must be how the plan of Raman actually ends up in execution. There are hints of the plan backfiring them as Sahil already seems aware of it. Following his instinct, Sahil might come up with a backup plan which will deem him, innocent, regardless of Raman's well-versed evidence.
There are several what-ifs at this point for the further storyline in the show. Sahil can make the plan backfiring for both Raman and Ishita and in turn, trap them in his scheme somehow to serve his vengeance. Both way around, the show will gear up its drama quotient and bring into action some spicy scenes to go with it.
Keep following the space for more updates on what is happening in the telly-town and more. Don't forget to tune in to Star Plus to witness the action-filled dramatic events surfacing in your own favorite Yeh Hai Mohabbatein.