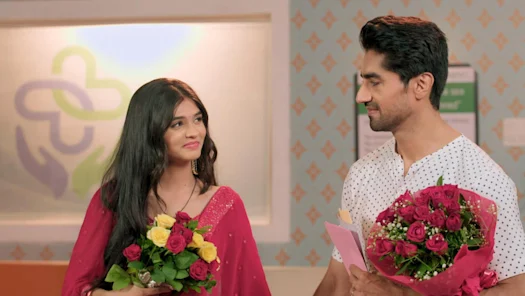 Yeh Rishta Kya Kehlata Hai 9th November 2022 Written Update on TellyExpress.com
In today's episode, Abhimanyu about to cover Akshara with a blanket. Phone rings and disturb Abhimanyu and Akshara's moment. Anand calls ask Birlas to gather to the dining table. Abhimanyu tells to Akshara that their kiss is pending. Akshara leave the place.
Abhimanyu and Akshara walk to the table. Neil says to Akshara and Abhimanyu that they are looking good together. Akshara give paratha to Abhimanyu. Manjiri asks Akshara to make sure Abhimanyu eats well. Mahima joins Birla's for the breakfast. Anand announce about appointing new MD for Birla hospital. He says he will tell the name of the new MD in front of media. Parth and Nishta congratulate Mahima. They says Anand is finally making her MD. Mahima asks Parth and Nishta to wait until Anand announce the name. Parth says no one other than Mahima deserves. Mahima assure Parth and Nishta that she will take up the responsibility of them even if she turns the MD. She says after her Parth will take over.
Akshara console Neil. She feeds him food and assures she will never forgive Arohi for doing wrong with him. Abhimanyu over hears Akshara and Neil's talk. He wishes for Neil's happiness. Mahima reach the Birla hospital. She think Anand never gave her desired respect despite being capable. She gets happy thinking Anand will finally make her MD. Mahima says she deserves the position. Arohi leads Mahima to not throw her out from the hospital post becoming MD. Mahima says to Arohi that she will throw her out post becoming MD.
Birlas gather for the event. Anand announces about the new MD. He asks Mahima to support him in putting MD badge on Abhimanyu. Mahima stand stunned along with others. Media questions Abhimanyu about becoming the MD. Anand asks Mahima to put the badge. Abhimanyu asks Anand if he is sure as Mahima is more capable. Anand says he isn't refusing but he is sure upon his decision. Mahima gives the badge to MD. Media asks Abhimanyu to answer.
Anand asks Abhimanyu to address the crowd. Abhimanyu takes Akshara along. He gives the speech and assures that he will carry forward the legacy of Birla hospital. Arohi instigate Mahima against Akshara. She calls her loser. Rohan arranges dinner party for Abhimanyu, Akshara and Birlas. He says they now need to be in Abhimanyu's good books. Abhimanyu says to Rohan that for cracking bad joke one will be asked for over time. Rohan takes selfie with Abhimanyu, Akshara and Birlas.
Mahima confront Anand about doubting her capabilities. Anand says to Mahima that she did wrong with Abhimanyu, Akshara thus they have to compensate. He advice Mahima to learn from her mistake. Mahima gets irked. [Episode Ends]
Precap: Akshara learns about Vansh's alliance. She decides to visit Goenkas. Abhimanyu waits for Akshara at dinner party. Manjiri gets upset with Akshara for leaving Abhimanyu for Goenkas.
Also See: