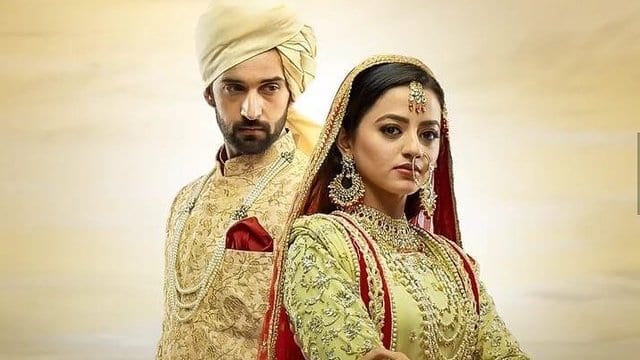 When Saltanat will refuse to confess her feeling, Zaroon will make an announcement which will shock Saltanat but before that drama to galore more after Hamza will try to get closer to Kaynaat.
Star Bharat show Sufiyana Pyaar Mera will witness high voltage drama in coming days.
So far in the episodes, it is seen after Kaynaat hears her marriage is fixed with Hamza she was broken. Kaynaat took her bridal outfit and putted it on fire. Zaroon jumps inside the fire to save Kaynaat. He holds her and takes her out of the fire. Kaynaat recalls his word and faints in his arms. Doctor tells them nothing is serious but she is in shock. Later, Saltanat goes to Zaroon and kisses his wound. She says every girl dreams of husband like him. Zaroon smiles meanwhile everyone gets shocked seeing forensic dept men.
Saltanat gets worried and asked who called them. Hamza said he was asked by Dadaji to call them. Saltanat ask him to keep an eye else Kaynaat will be in trouble. Later, forensic men gets a clue and says they have to arrest a person who has attempted the suicide. Zaroon helps Kaynaat and stops the men from arresting her.
Now, in the upcoming episode will see after so many drama Zaroon will once again go to Saltanat and he will ask her to confess her feeling. Saltanat will refuse and will say, he is chosen for Kaynaat. Zaroon will be irked and he will make a big announcement. He will tell Saltanat that he will marry Kaynaat then only she will realize his pain. Zaroon will go from there and Saltanat will cry for him. Kaynaat will hear them and smirks. Otherside, Hamza will try to get closer to Kaynaat and Miyajaan will catch them red-handed and will create a scene. Zaroon will slap Hamza.
What new turn and twist will come in the life of Zaroon, Saltanat and Kaynaat will be interesting to watch.
Do Zaroon will marry Kaynaat? Well time will only tell, keep watching Sufiyana Pyar Mera on Star Bharat to know more.
Stay tuned with us for more updates.