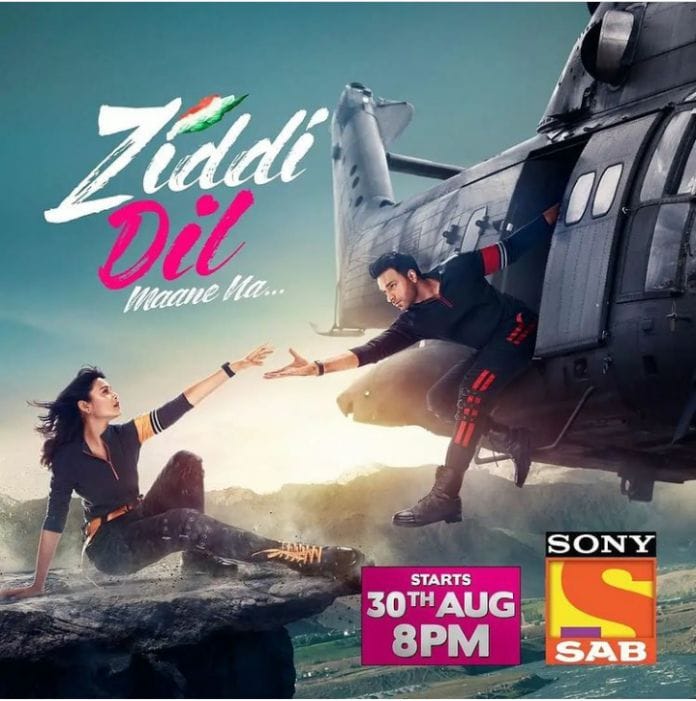 Ziddi Dil Maane Na 26th May 2022 Written Update on TellyExpress.com
The episode starts with Suman and other girls getting Koel ready for marriage. Koel gets emotional with their love. Sid and Bala tease Faizi for his dressing. Karan also comments negative about his outfit so does Nikhil. Bala and Sid gets him ready well and they decides to click a picture. Karan sees Chitra passing by and calls her. She gets happy thinking Balli is interested in her and was about to fall but Karan holds her. She praises him and Chitra clicks their picture. Karan notices Chitra's interest towards him. Faizi thanks them and misses Karan. He leaves. Faizi comes to Param and says that he's getting married today shocking him. He asks who's the bride and he says Koel. He applies for his Family's accommodation as academy provides accommodation for commando's family and leaves. Param calls Mridula and informs about Faizi and Koel's marriage and asks her to handle the rest.
Faizi and Koel are present in court for marriage. They both compliment each other and gets lost in each other's eyes. Sid teases them. Monami says Karan that one day they also would get married the same way. Karan asks why can't they marry in open and Monami asks whether he thinks her father would agree for it. Karan says its true but after marriage he promises to take her in open in his arms. Chitra expresses her interest on Balli to Suman and Suman asks her to confess her heart feelings to Balli. Chitra comes to Balli and asks whether he has girlfriend and he says no. Monami notices Chitra's interest towards Karan and compliments then to tease Karan. Karan feels caught.
Nikhil wants ti go to washroom and Koel takes him to washroom. Abhay comes there shocking her. Abhay abuses Koel locking Nikhil in washroom. He says that he can't separate his son from him and says that he would kill her. Everyone waits for Koel and Bala says Faizi that Koel would be there soon. Sid is looking at Sanjana's picture and Bala understands that he's lost in Sanjana's thoughts. He says he can understand he's in pain and Sid says seeing Koel with Faizi he gets reminded of Sanjana so much. Bala hugs him and comforts him. He's about to blurt out about Karan by mistake but Karan interrupts them. Chitra comes there to click picture with Balli and Sid teases him. Karan escapes and Chitra expresses his interest towards Balli. Registrar calls for Koel and everyone couldn't find Koel.
Koel forcefully drags Nikhil with her luggage and Nikhil asks about her marriage. She says that Abhay threatened Koel with Faizi's life and Koel says that she can't take the risk. Nikhil refuses to listen and tries running away but falls down and get hurt. Faizi and others come there at the same time. Koel tries convincing Nikhil but he doesn't listen. Faizi comes there and Nikhil runs and hugs him. Faizi confronts Koel about her backing off at the last minute. Koel cries and Faizi asks what happened. She says that Abhay came there and says whatever happened. She says about Abhay threatening her with his life. She asks how could she risk his life for her problem. Faizi comforts her and encourages her to fight back. He asks promise from her to not get frightened by Abhay's threats as when they are together nothing will happen to them or Nikhil.
Precap : Param will get hold of the Parakram SAF soldiers security details from whole country and will click picture of the papers. The papers will get stained and he will throw it away in dustbin. Monami will witness it all and checks for the papers when Param will come there.
Click to read