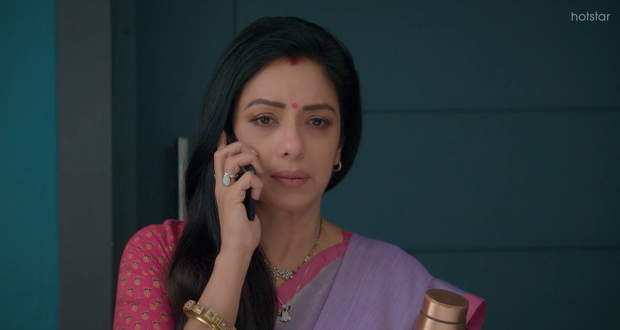 Anupama 12th November 2022 Written Update on TellyExpress.com
In today's episode, Anu gives dancing tips Adhik, Gk, Ankush and Anuj. GK asks Anu why she is repeating the step. Anu tells Samar has sent her video to make them practice the easy steps and he will make them learn the difficult one. She asks Kapadia's to practice for Pakhi and Adhik's sangeet. Anu asks Anuj to do the dance properly. Anuj assures Anu. Anupama praises Anu for her efforts. Barkha says dance should be energetic. Anupama likes the dance. Anupama receives the call from Samar and asks Kapadia to visit with her to Shah house. Barkha decide to stay back to check upon the staffs of the house.
Pakhi falls down. Vanraj tries to help Pakhi. Pakhi cries for forgiveness. Vanraj leave the place. Samar and Paritosh cheers up Pakhi. Pakhi thinks Vanraj will never forgive her. Samar and Paritosh dance with Pakhi. Kavya smirk seeing Vanraj. Shahs and Kapadia's enjoys with Pakhi, Samar and Paritosh. Pakhi look for Adhik. Anuj tells to Pakhi that Adhik will join them later. Leela asks Anupama to convince Vanraj to join the function. Anupama replies to Leela that every time she can't go to Vanraj and beg him.
Anuj goes to Vanraj. He asks Vanraj to go to Mumbai and do his important work and save his time. Anuj applies the reverse phycology on Vanraj. Leela asks Anuj if he went to convince Vanraj or went to ignite his anger. Anuj asks Leela and Kavya to wait for the result. Pakhi asks Adhik to come for their sangeet. Adhik says he has an important meeting. Barkha minapulate Pakhi and says Anuj and Anupama deliberately send Adhik to the office. Pakhi gets upset.
Elsewhere, Vanraj gets restless seeing the sangeet preparation of Pakhi. He decides to leave to Mumbai. Vanraj tells to Pakhi and Shahs that he doesn't want to spoil anyone's mood thus leaving. He assures to join them on the wedding and bless the couple. Pakhi sings an emotional song to stop Vanraj. Shahs and Kapadias stand teary.
Anupama asks Vanraj to remember the day when he was happy on Pakhi's birth. She tries to convince Vanraj to stop for Pakhi's fake. Anuj comfort Anupama. Pakhi says to Vanraj that he was a good father but she has always disappointed him. She calls herself bad. Vanraj hugs Pakhi and console her. [Episode Ends]
Precap: Shahs and Kapadia's enjoys Adhik and Pakhi's sangeet. Anupama slaps Pakhi and disowns her. Adhik and Pakhi leave the place.