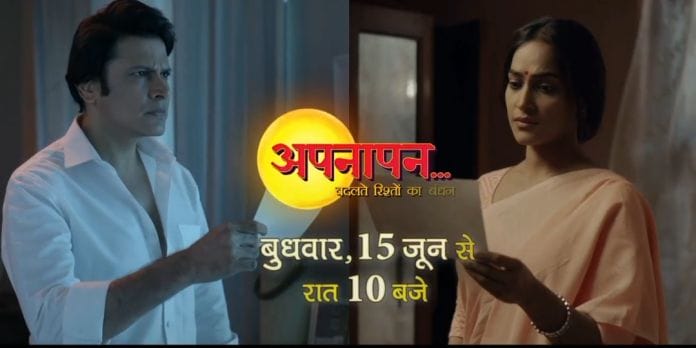 Appnapan 15th September 2022 Written Update on TellyExpress.com
Episode begins with Sonali saying now you just see my moves. Nandita says as Pallavi has left, use this and go to Nick to support him, this is the right time. Nick worries and tries to call Badal. Nick thinks first Pallavi went missing now Badal. Sonali comes to Nick and pretends to be emotional that Pallavi went missing because of me right? I can't forgive myself, if that's so I will leave. Nick says whatever happened it's between us three. Sonali is about to go when Nick stops her and says whatever happened is in past so let it be. Pallavi and Badal come back and see Sonali with Nick. Pallavi gets upset. Sonali tries to explain when Nick comes to Pallavi and says I have handled everything, Sonali will leave. Sonali acts crying and says thanks for accepting me, I am going from here. Badal says but where will you go? Sonali says I will handle it.
Nimmi comes and says how will you find a house as you are a widow and the thing happened with your husband, you know how people of Meerut are. Nick says stop it, she is already worried and you are making difficult for her, you are a woman and still making her feel like that? Nandita smirks while Pallavi looks shocked at Nick. Sonali says for a woman things don't change. Nick says don't worry about these ladies. Sonali says nothing has changed in Meerut, I was broken when Mahesh died, now also I will handle myself. Sonali says I will let you know when I find a place to stay. Dadi stops Sonali and says you children are always in hurry to decide things, Sonali is also a child so how can we leave her alone? Nick how can you let her go alone? Dadi says we don't let any woman feel humiliated, you will stay with everyone in this house being a family member, come hug me. Sonali and Nandita smirk. Pallavi worries.
Nandita thinks she has never accepted me as a daughter but now you are helping me in my plan, this is my revenge from you and Pallavi. Dadi asks Pallavi if she did right. Pallavi nods and looks at Nick. Nick says I was saying Sonali is in trauma, so she shouldn't stay among so many people. Dadi says between family she will stay better. Dadi says now no ifs and buts. Pandit ji asks for sagai to begin. Dadi takes Nick and Pallavi. Dadi says everything will go nicely. The kids taunt Nick and Pallavi about marriage. They all go for sagai. Nick whispers Pallavi, he tried his level best. Pallavi says our marriage and now Sonali, everything is happening all over again, why is it happening with me? Sonali comes and says I know you want me to go away but I have missed this family a lot and now I think I need you all some time and happiness with you all, please let me stay in this happiness. Pallavi looks at Nick.
Nandita comes to Dadi and asks to do the family ritual where bride's sister ties the thread to bride and groom. Dadi says wow for the first time you looked for the better of us. Sonali says what all she went through all these years. Pallavi remembers past moments when Sonali created problems between her and Nick. Sonali asks for forgiveness. Sonali says I don't know if I will get forgiveness or not but let me part of your happiness. She folds her hands and pretends to cry. Pallavi looks angrily at her and Nick. Dadi comes and says you two sisters can talk a lot after the ceremony, let's go now.
Dadi tells everyone about the bride's sister's rituals. Dadi explains the ritual while Sonali and Nandita smile. Dadi gives the thread to Sonali and asks her to start the ritual. Sonali says I will definitely do this for my sister and jiju. The ritual starts. Sonali ties the thread to Nick and Pallavi and ties them together. Sonali says where the love is so true, then the people are always pulled towards each other. Gagan tells Badal that I will go with dad to new york. Badal asks Gagan to stay silent. Dadi asks Pallavi and Nick to do another ritual when they see Sonali has tied herself with their hands too.
Episode ends.
Precap – the sagai gets completed and Dadi decides to plan the shaadi. Sonali thinks to execute her plan to separate Nick and Pallavi.
Click to read