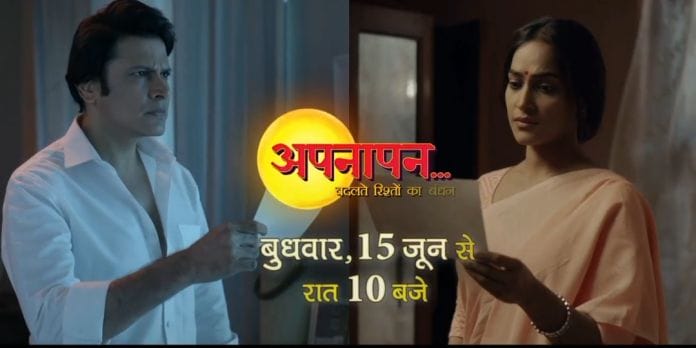 Appnapan 16th September 2022 Written Update on TellyExpress.com
Episode begins with thread tying ceremony getting over. Nick and Pallavi get up and everyone is shocked to see Sonali's hand also tied up. Sonali pretends that she doesn't know how this happened. Nandita thinks perfect move. Nimmi says no issues sister in law is half partner only. Dadi says think before you speak, this is serious. Sonali says I will remove the thread. Pandit ji says opening the thread is not right, so Sonali can join the other rituals with Nick and Pallavi. Dadi says okay as Sonali is Pallavi's sister only. They three perform all the rituals. Sonali thinks I will always be part of Nick and soon Pallavi will be sidelined. The puja ends and Nick asks Sonali to remove the thread.
After the puja, Dadi makes Pallavi and Nick sit for ring exchange. Mana says but what about the rings, I feel so sorry. Dadi says no issues we will find it. Pallavi says wait, I need to talk to you. Dadi says all of a sudden? Can we talk after the engagement? Pallavi says no, it will take 2 mins. Pallavi, Dadi and Nani go upstairs. Nimmi taunts saying thank god Ishan is not marrying here or else so many drama would have happened like this. Nick gets shocked and thinks if Pallavi tells the truth to Nani and Dadi then it will be a disaster. Nandita thinks Pallavi must not want to marry Nick. Sonali comes to Nandita and takes the rings from her. She thinks I will not let anything happen correctly in this marriage.
Pallavi tells Dadi and Nani that I can't do this. Dadi says why? What happened all of the sudden? Did you not like something? Nani thinks when Pallavi knows all this is acting then why she is reacting? Here, Sonali eats food and keeps the rings pouch on the sofa. After eating she takes the pouch but the rings fall in the couch. Mana comes and sits there and thinks Dadi will be so upset seeing the rings missing. Ishan comes and sits beside her again trying to convince they are so perfect couple and Barkha will understand.
In the room, Dadi asks Pallavi if you want this then this will happen and I was going to announce your wedding date today so I will announce this as well. Here, Mana keeps her hand on the sofa and finds the rings. Mana says how come the rings are here? We tried finding it everywhere. Sonali sees from far and regrets doing such a silly mistake. Suddenly, Ishan says I saw Sonali sit here before. Mana says but how can she have the rings when she came after that incident? I find her over as she is over dramatic and over emotional in everything plus she came back after so many years something is not right but why will she take it. Sonali thinks if Mana tells everyone about it then her plan will get ruined. She feels very anxious. Ishan asks Mana to go and ask Sonali. Mana says no, that will look odd. Sonali sees a waiter coming so she pushes a ladder on his tray so the food spills on Nimmi and she makes a scene while the rings get dropped. Mana is busy seeing how Nimmi is blaming the waiter and their service when Sonali picks the rings. Nimmi taunts Barkha that her family always has some or the other drama. Nimmi asks Ishan to drop her home. Nani, Dadi and Pallavi come and try to handle the situation. Mana realises she again lost the rings.
Suddenly, Sonali pretends to lift something from ground and exclaims look what I found? Are these the engagement rings? Mana and Pallavi look at her suspiciously while Badal and Gagan thank her. Dadi says it's a good sign we got the rings. Nani takes Dadi with her to talk to pandit ji. Nick stops Dadi and asks her what did Pallavi tell you? Dadi says please have patience. Sonali and Nandita worry about what might have Pallavi told Dadi. Nick comes to Pallavi and gets angry on her saying what did you tell mom?
Just then, Dadi announces and thanks everyone for coming. Dadi says Pallavi suggested to do a grand wedding for which we will need time so we will do the wedding after 2 months. Nick gets happy. Nani says now let's get done with ring exchange. Nick and Nandini exchange rings while Nandita and Sonali watch it angrily as their plan failed. Everyone else claps for them. Nick and Pallavi take blessings from Dadi and Nani. They bless them and hug them. Dadi asks Gagan to click nice pictures of us. Dadi asks Nick to go near Pallavi. They both have an eye contact. Nandita whispers to Sonali that Pallavi won this game. Sonali says let Pallavi think she won, but I will win the actual game and I will only take pheras with Nick.
Episode ends.
Precap – Pallavi asks Nick to make Sonali go as Sonali is trying to come in between her and kids. Nick tries to talk to Sonali. Sonali manipulates Gagan for taking the job. Suddenly Nick gets a call of Gagan getting into an accident.
Click to read