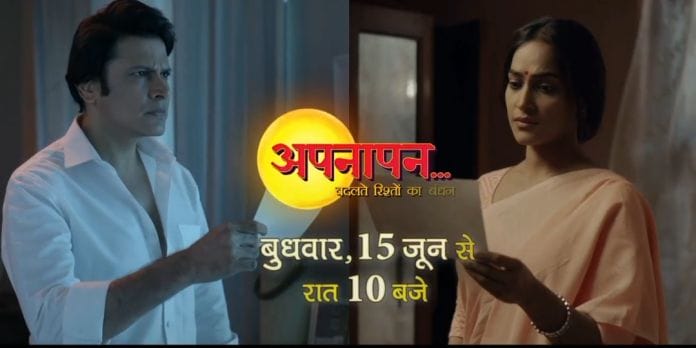 Appnapan 26th October 2022 Written Update on TellyExpress.com
The episode starts with Pallavi asking Nick where is his mother. Ranveer comes there to get Pallavi's sign on a paper. Dadi says he came on wrong time. Nandini and Sonali plan to slip a letter to Dadi. The waiter drops it and Dadi picks it up. She learns it is for Ranveer. She reads it and goes to Pallavi. Dadi asks her if she wrote it. Pallavi says yes and Dadi cancels the wedding immediately. She accuses Pallavi of cheating on Nick. Pallavi tries to explain that she can never think of deceiving Nikhil. Dadi knows that too, she knows her nature. Dadi says she made a mistake and failed to see Pallavi's true colors.
Nandini reads out the letter and the romantic sentences upsets Dadi even more. Pallavi says she wrote this but her feelings are for Nikhil not for anyone else. Dadi says then why Ranveer's name is written on it. Pallavi's friend says it might be a misunderstanding. Pallavi loves Nikhil only. Dadi shows lipstick mark on the letter saying whose mark is this. Nandini says Pallavi is wearing the same shade lipstick and anyone can say it's hers. Dadi says Pallavi should have told her directly that she doesn't love Nikhil anymore, why she kept them in dark and betrayed them. She shouts at Ranveer too for coming here. Dadi doesn't let Pallavi speak anything. Pallavi says she respects her more than anyone and her wish means a lot for her. She wrote the letter for Nikhil only, he shuts her up saying he is not going to trust her anymore.
Nikhil says Ranveer's name on Pallavi's hand and her care for him everything shows she has feelings for Ranveer. Nikhil extinguishes the hawan fire in anger and calls off the wedding. Sonali smirks and tells Nandini that now she will marry Nikhil. Nikhil is about to leave and Pallavi stops him asking if he really feels she is lying. Dadi says she trusted Pallavi blindly. Pallavi's mother says why they are blaming her daughter like that. Dadi says Pallavi ruined their family reputation.
Pallavi reminds Dadi of an incident when she went to return 50 rupees to a seller and didn't run away. Dadi said that her daughter in law can never take advantage of anyone. So if Dadi showed trust in her that time then why can't she do it now. Dadi says but she can't unsee the truth now. How can she take Pallavi's side ignoring the letter. It's the biggest proof against her. Mana cries and asks Nikhil why he can't trust her mother. Pallavi tells Mana to stop crying and she questions Nikhil about his thoughts. He says he doesn't want to see her face. He goes to his room and throws away his pagdi.
Pallavi tells Mana says she doesn't have any proof to prove herself innocent but she won't sacrifice her self respect either. She is not guilty. Mana says but she has to stand up for herself. Dadi can't keep insulting her. Ranveer says he will talk to Nikhil for Pallavi's right. Pallavi tries to stop him but in vain. She thinks Nikhil will get angry seeing Ranveer.
Precap – Nikhil gets married to Pallavi and promises to be with her always. Sonali fumes and threatens Pallavi showing knife. She says she will ruin her happy married life.
Click to read