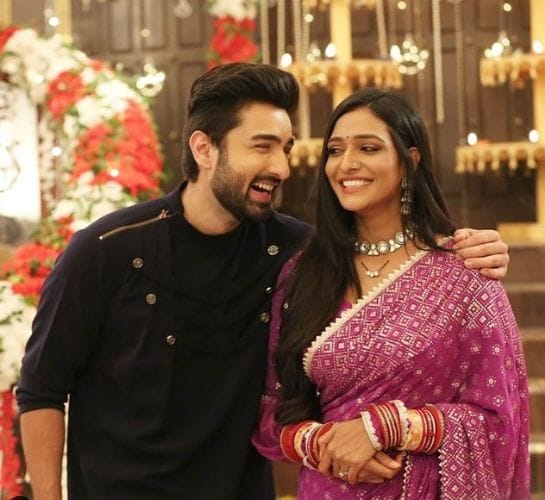 BhagyaLakshmi 27th October 2022 Written Update On TellyExpress.com
The episode starts with Balwinder calling Malishka a liar and reminding her that she allowed him to stay here. Malishka says she didn't allow him to stay here and says she only told him he can hide here for a few days. Balwinder says to Kiran that now your daughter said it right and says he will stay here in this room. Malishka asks Kiran if Balwinder can stay here.
Kiran asks Malishka why is she asking her now as she didn't ask her before. Malishka asks Kiran not to torture her. Kiran comforts Malishka and says she still has a chance and says tomorrow is a special day and says if she made tomorrow hers then Rishi will be hers. Malishka asks Kiran what is tomorrow? Kiran asks Malishka to remember. Malishka recalls what tomorrow is and says thanks to Kiran and leaves from there. Balwinder asks Kiran what is tomorrow?
Rano scolds Balwinder in her heart as Balwinder didn't give her money. Shalu comes and says shares the good news with Rano. Shalu says Rishi is free of all allegations and says they also know the real culprit is Balwinder. Rano scolds Balwinder and thinks she should have taken her money from him before it's too late and now she can't get anything. Bani says to Shalu tomorrow is a special day for Lakshmi. Shalu asks what is tomorrow?
Rishi just looks at Lakshmi and enjoys nature. Lakshmi asks Rishi if they can go as it is already late. Rishi says he didn't know the time passing by and says he enjoyed this silence and this moment. Lakhsmi asks Rishi if she can share what is in her heart. Rishi agrees. Lakshmi says she never wanted to be separated from him. Rishi says he also wants the same. Lakshmi asks if they can leave. Rishi agrees. Rishi sees that his bike is missing and later notices that it is not stolen but parked elsewhere.
Virendra says he has good news for everyone. Virendra says everyone is praising Rishi and says the people who pointed at us are now saying sorry to us. Virendra says everyone is also praising Lakshmi and says they are made for each other. Malishka says everyone is praising Lakshmi because she is the wife of Rishi. Neelam agrees with what Malishka said. Neelam says she is perfect for Rishi. Virendra says he will see who will win. Ayush says to Virendra he wins Virendra says their business is better than before and it is all thanks to Lakshmi and Rishi.
Rishi defends Lakshmi and says Lakshmi is lucky for him. Rishi says if Lakshmi is inauspicious then he should have been dead by now. Lakshmi asks Rishi to never talk like that again. Rishi agrees. Dadi says tomorrow is Karwa Chauth of Lakshmi. Ayush says Lakshmi will do Karwa Chauth just like she did last year. Malishka says she will also do Karwa Chauth tomorrow for Rishi. Rano prepares Shagun for Lakshmi that has to go from her house. Shalu and Bani praise Rano for what she did. Shalu and Bani take Shagun to the Oberoi mansion.
Dadi asks Malishka if she is wife of Rishi. Dadi says to Malishka that Lakshmi is the wife and she only has this right. Dadi says in this house they don't make joke about the traditions and says to Malishka that she will not do Karwa Chauth for Rishi. Kiran thinks of Balwinder and locks the locker to be on the safe side. Kiran sees Balwinder standing behind her and gets scared.
Dadi says to Ayush what he has to do for tomorrow. Ayush sees Shalu coming with Shagun and says to Dadi that Shagun came from Rano's house. Rano also comes and greets Dadi. Rano asks where is Neelam. Dadi says Neelam went outside. Kiran asks Balwinder if he came here to do the robbery. Balwinder just looks at Kiran and doesn't say anything.
Episode ends.
The episode starts with the inspector saying to Rishi that he is free now with a clean chit. Malishka and Ayush hug Rishi and congratulate him. Rishi thanks the inspector. The inspector says he should say thanks to Lakshmi. The constable comments and says Lakshmi loves Rishi very much. Balwinder gets frustrated thinking everything is going against him and breaks the furniture. Kiran hearing the noise recalls what Rishi said and thinks Balwinder came to kill Malishka. Kiran takes a rod and looks for Balwinder.
Ayush says to Rishi that he got out and he should celebrate with Lakshmi. Ayush gives Rishi the bike keys and says he should take Lakshmi out. Rishi also praises Lakshmi and says they will be always together. Malishka says Lakshmi will be with him only until the divorce. Ayush asks Malishka if she can't stand someone seeing happy. Rishi says nobody knows the future and we should enjoy the moment and asks Lakshmi to come. Lakshmi takes Rishi's hand and says her happiness is with him.
Also See: