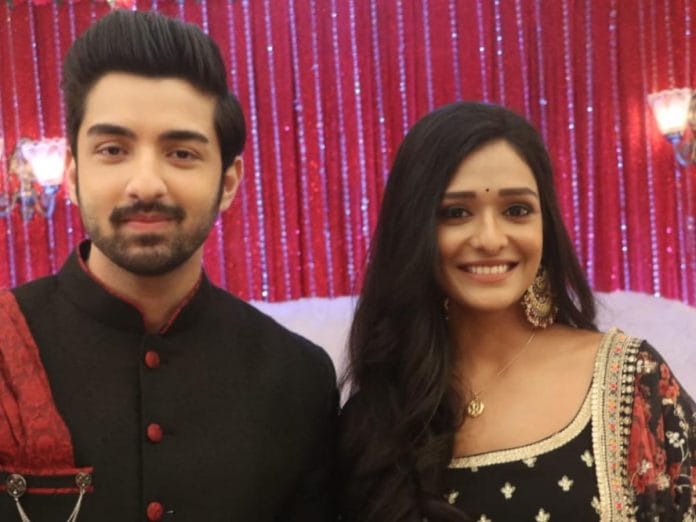 BhagyaLakshmi 29th October 2022 Written Update On TellyExpress.com
The episode starts with Rishi trying to stop Malishka in the middle of the road. Malishka pushes Rishi away and asks him to leave. Rishi collides with a car. The driver scolds Rishi saying if he wants to argue with his girlfriend he should do it somewhere else not in the middle of the road. Malishka sees that Rishi is fine and takes a cab and goes from there. Rishi calls for Malishka but she doesn't respond and leaves from there.
Kiran sees Malishka crying to herself. Kiran asks Malishka what happened? Malishka says they wouldn't allow her to do Karwa Chauth. Kiran asks why? Malishka says because she is not the wife of Rishi. Malishka says what Rishi said about not being able to do Karwa Chauth and says he is comparing her with Lakshmi. Kiran encourages Malishka and advices Malishka saying she has to break Lakshmi's fast. Malishka agrees and says she will prove to everyone that she is the ideal wife for Rishi by doing fast for Rishi. Malishka asks Kiran what she has to do.
Lakshmi worries about Rishi as he hasn't come home yet. Later she convinces herself that there is no need to worry about Rishi. Rishi reaches Malishka's house and asks Kiran if Malishka reached the house. Kiran acts like she doesn't know where Malishka is. Rishi says what Malishka did. Rishi says he will find Malishka. Balwinder eavesdrops on their conversation and thinks Malishka is crazy for Rishi. Rishi sees Malishka and goes to her. Balwinder sees Rishi coming and hides from him.
Rishi questions Malishka and asks if she is mad as she pushed him in the middle of the road. Rishi says she is worried for her. Malishka apologises to Rishi and says when he collided with the car she called his name. Rishi recalls what she said. Malishka says to Rishi that she cares for him more than anyone else. Malishka asks Rishi to say that he loves her. Rishi hears something falling as Balwinder drops a vase. Rishi asks Malishka what is the sound? Kiran fears Rishi will see Balwinder and shouts at Malishka asking if she is trying to kill herself to distract Rishi. Kiran argues with Malishka and Rishi defends Malishka. Kiran asks Rishi to leave and says she has to talk to Malishka. Rishi agrees and leaves from there.
Malishka starts punching Balwinder as he ruined her moment with Rishi. Balwinder asks Kiran to put some sense into Malishka. But Kiran also helps Malishka in beating him. Malishka asks Balwinder why is outside of his room. Balwinder says he came here for the water and complains to them. Malishka gets irritated with Balwinder's behaviour and asks him to leave. Balwinder reminds them that if he got caught then it will be trouble for them. Malishka hearing this allows him to stay. Balwinder goes inside.
Shalu talks with Bani about Rishi and Lakshmi. Ayush calls Shalu. Shalu asks Ayush why is he calling her at this time? Ayush starts teasing Shalu.
Rishi says to himself that he is very lucky as he got Lakshmi as his wife. Lakshmi also says she is very lucky and says Rishi is smarter than Lakshmi. Rishi hearing this asks her to repeat to record what she said. Lakshmi says again that Rishi is smarter than Lakshmi. Rishi records what Lakshmi said. Rishi says to Lakshmi that there is no need to fast for him. Shalu argues with Ayush and asks Ayush to do Karwa Chauth for his future wife. Ayush teases Shalu. Lakshmi says to Rishi why this Karwa Chauth is important to her and tells him that she will do it as she wants to do it.
Episode ends.
Also See: