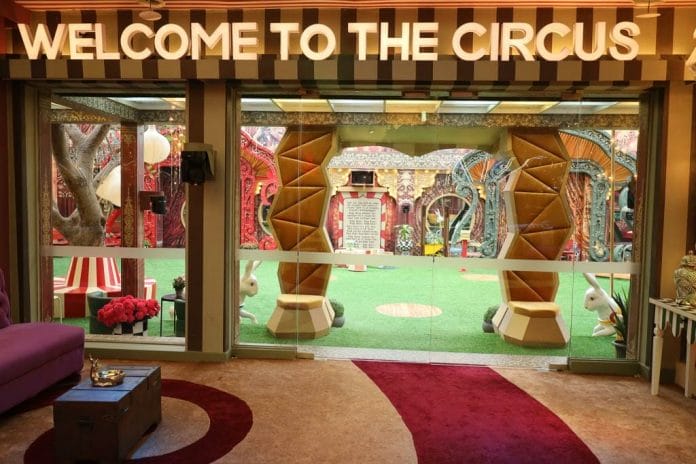 Bigg Boss 16 18th November 2022 Written Update on TellyExpress.com
Today's episode started with Day 47: 1AM| Soundarya asks Shalin to calm down. Shalin says he is completely calm. Sumbul asks Shalin not to go out. Tina tries to talk with Shalin. Sumbul interrupt. Shalin too asks Sumbul to stay away. Sumbul says to Shalin that she care for him. Tina claim Sumbul is possessive for Shalin. Sajid asks Tina what is the matter. Tina and Gautam tells to Sajid that Sumbul was over reacting.
Sumbul cries and share with Soundarya that she wants to go back to home.
Shalin asks Bigg boss to take an action against Shiv, Stan else he will walk out from the house. Ankit and Priyanka side Shalin.
Tina asks when Archana got physical than all allowed her to come back and now Ankit Priyanka claiming they can't be in the house. Sajid support Tina.
Stan, Gautam, Nirmit and Shiv talk about Tina and Shalin's matter
Sumbul asks bigg boss to either send her. Shalin or Stan. She wish nothing happens to Shalin.
Later, Shalin confront Sumbul about interrupting him. He side Tina. Sumbul gets angry on Tina for not speaking up on right time. Shalin asks Sumbul to apologize. Sumbul refuse to apologize to anyone.
Priyanka, Ankit, Shalin demand bigg boss to take an action against Stan and Shiv. Tina calls them double standard. Tina and Shalin argue with each other.
Shalin says he got provoked too and demand justice. Bigg boss asks Shalin to speak in English. Shalin refuse to speak in Hindi. He asks bigg boss to take an action fast.
2 AM: Sajid discuss with Shalin. Priyanka jumps into a conversation. Sajid asks Priyanka not to interrupt. Priyanka gets furious and argue with Shiv.
Nimrit, Gautam, Shiv and Staan claim Priyanka just needs footage. Priyanka refuse to listen to Ankit. Ankit gets angry on Priyanka.
Sajid asks Priyanka to calm as he asked bigg boss to interrupt. Priyanka, Sajid and Nimrit argues with each other
2:15 AM: Priyanka share with Ankit that what Stan did with Shalin can do other day with her too. Ankit agree. Sajid confront Stan about running with the vase. Stan and Shiv says Shalin provoked first.
Tina and Shalin comfort each other. Shalin refuse to talk with Tina about Stan. He goes to Priyanka and Ankit. Shalin says bigg boss need to take an action. He says either Stan or he one need to go out
2:30 AM: Tina tells to Nimrit and says she was calming Shalin. She claim only she can calm Shalin.
Verabl argument happens between Priyanka, Tina.
Sumbul share with Shalin that she is scared. Shalin calm Sumbul.
Tina tells to Sajid, Nimrit, Stan, Abdu, Shiv that Shalin is against her. She claim Priyanka and other group members are instigating Shalin.
Bigg boss calls Tina, Stan and Shalin to the confession room. He discuss about the incident with them. Bigg boss asks Shalin to calm a little and hear him. He further asks Tina to decide whom she wants to punish amide Shalin and Stan.
Shalin refuse to value Tina's decision and demand bigg boss for one to one conversation.
Tina and Shalin argue in front of bigg boss. Bigg boss asks Tina to make a decision. Tina refuse to evict either.
3:30 AM: Shiv asks Stan what happened inside the conference room. Stan tells to Nimrit and Shiv.
Bigg boss talk with Shalin alone. Shalin confess to bigg boss that he wants to leave the house. He adds either Shiv/ Stan will go or he will. Bigg boss asks Shalin to make a voluntarily exit. Shalin agrees. Bigg boss says to Shalin to wait for Salman.
3:45 AM: bigg boss asks Shalin not to discuss about his exit with anyone.
Tina tells to Nimrit that Ankit is Priyanka's trigger.
Bigg boss tell to all that Shalin has decided to make a voluntarily exit.
Shalin breaks down and Gautam console him.
Shalin regret trusting Tina. He says to Gautam that Tina played with him. Sumbul suggest Shalin to stay back and give it back.
Gautam decide to talk about the game outside the house post Shalin asked him why he didn't trusted him.
Shalin says Tina played him. Nimrit talk with Shalin. Tina interrupts. Shalin refuse to talk with Tina. He claim Tina played. Tina defend herself. She also asks Sumbu to give Shalin privacy. Sumbul refuse. Tina fail to console Shalin. Shalin decide to go. [Episode Ends]
Also Check: