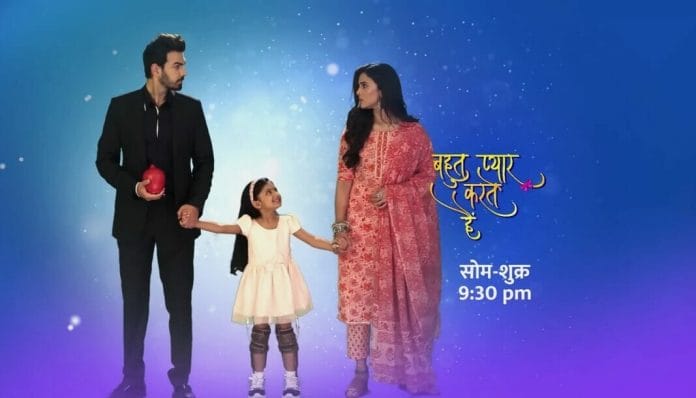 Bohot Pyaar Karte Hai 15th September 2022 Written Update on TellyExpress.com
The episode starts with Indu tells Zoon she is her mother and Zoon is her daughter and no one can snatch her from her. She also asks her to not to listen to anyone if anyone tells her she is not her mother. Zoon agrees. Zoon asks Indu about the hotel they visited the other day and tells she wants to go there and says she is hungry so she wants to have sandwich. Indu tells the hotel is too long for them to go. She then shows Zoon the sandwich stall nearby them and tells her she will buy sandwich for her from there. Zoon says okay. Indu asks Zoon to not to go anywhere until she comes. Zoon promises. Indu goes to the sandwich shop and asks the owner to give her a sandwich and bottle of water. The man asks her to pay Rs.50.
Indu tells him she don't have money right now and her daughter is hungry so pleads with him to give her sandwich. The man refuses and scolds her. Indu shows Zoon to him and pleads him to help her. She then gives him one of her jewellery which leads the man to give her a bottle of water and sandwich. Indu comes to where Zoon is but gets shocked seeing Zoon is not there. She starts searching for her here and there and asks the nearby shop where she left Zoon but the man says he doesn't know. Indu then sees the police vehicle and the CAA's. She runs behind the vehicle's. In the traffic light the vehicle comes to a stop.
Indu gets shocked seeing Ritesh is with Zoon. Zoon gets happy seeing Indu. She shows Indu the juice which Ritesh brought for her. Indu forces a smile. She then asks Ritesh where he is taking Zoon Zoon with him. Ritesh tells where Zoon should live though. Indu tells Zoon to come with her and tries to hold her hand but Ritesh stops her. Zoon sees this and questions Indu and Ritesh whether they are having a fight or something? They both denies. Indu pleads with Ritesh to not to involve Zoon to take revenge on her and let Zoon to come with her.
Zoon asks Ritesh to let Indu join her too in the vehicle but the latter tells her already the says are filled so Indu will come in the other vehicle. He then warns Indu to not to create any scene infront of Zoon. Zoon asks Indu to come in the other vehicle. Indu tries to take Zoon's hand saying they both can travel together but Ritesh holds her hand. The traffic lights turns green and the vehicle starts moving. Ritesh leaves Indu's hand and the latter breaksdown.
Indu decides to run behind the vehicle but gets stopped seeing the cops. The inspector tells Indu that they are arresting her for keeping Zoon without adopting her legally also kidnapping her. Indu gets shocked. In Raina's house Rajender tells that he knows this is what Ritesh is going to do with them when the drama happened because of the jewellery. Sunita asks him to not to blame Ritesh becsuse it's all happening because of Zoon and calls her bad omen. Asha asks Sunita to not to say anything such against Zoon which shocks Sunita. Asha then tells the family members both Indu and Zoon needs their help so they should go to Lonavala. Vivek agrees with her.
Just then Anjali receives a message from Vivaan saying Indu gets arrested and the family members gets shocked. The cops takes Indu to the police station and Indu asks them to leave her saying she wants to meet her daughter who wont stay without her. The higher officer taunts Indu by asking her is she planned to use Zoon for her own benefits to get some profit when she grows up. Indu warns the officer to not to say anything such like this because Zoon is her daugher. The officer threatens Indu. The other officer tells the higher officer anyhow Indu will spend the next seven to eight years in prison so they dont have to worry. The higher officer asks the other cops to lock Indu inside the room. They obliges and locks Indu inside the prison. Indu cries.
Ritesh takes Zoon to the CAA. Zoon asks Ritesh where Indu is also she wants to see her because she misses her. She further asks why they are here. Ritesh tells Zoon she has to stay here for few days. Zoon asks him is he will also stay with her. Ritesh says no. Zoon asks then what about Indu. Ritesh tells her she has to stay alone. Zoon refuses and says she wants to be with Indu and asks him to call her immediately. Ritesh lies to her he will. He then asks Rahul to call his lawyer immediately. Rahul obliges. Rajender's health detoriates which makes the Raina's worry.
Asha pleads with Rajender to not to take any stress because she will keep informing him about Indu and Zoon. Ritesh takes Zoon inside the CAA. The officer talks to Zoon nicely. Zoon goes to sketch while Ritesh asks the officer to let him see the room where Zoon is going to stay. The officer refuses saying its against the rules but as per his request she will think whether there is a chance to keep Zoon in a room where she dont have to stay with other kids. Zoon shows her sketch to Ritesh then tells she wants to show this to Indu too and says she misses her. Ritesh gets upset and sad. The officer takes Ritesh outside. Zoon from inside the room pleads Ritesh to not to leave her alone.
Ritesh asks the officer to let him keep Zoon with him in his house over a night but the officer refuses saying its against the rules but assures to take proper care of Zoon. Ritesh comes out and tells Rahul why he feels that he is doing something wrong by doing all this though. Rahul asks Ritesh to not to make the mistake which Indu made her. Ritesh calls his lawyer and asks him to do something so that he can adopt Zoon. The lawyer assures him but gets worried. Ritesh looks on sad.
Precap: Indu looks at the food that gave for her which made her realise that Zoon is allergic to rotis made of ghee so she pleads the cops outside to help her give this information to Ritesh. The caretaker suggests Zoon she will feed her food. Zoon obliges. With the help of few cops Indu calls Ritesh number. Ritesh sees he receiving a call from an unknown number. Indu pleads Ritesh to answer the call. The cops around her looks nervous and scared.
Click to read