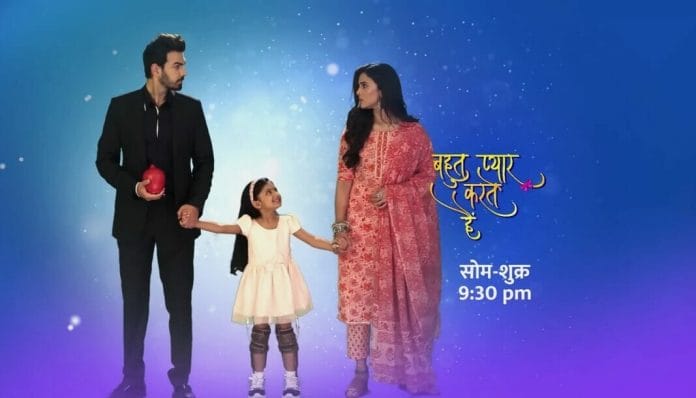 Bohot Pyaar Karte Hai 28th October 2022 Written Update on TellyExpress.com
The episode starts with Ritesh tells Indu that he knows he looks handsome which he knows already. Indu makes faces at him and tries to tell him something but he interrupts her and tells her that he knows he looks charming also. He also tells her that her dressing sense also improved. Indu gets angry and opens her mouth to scold him but Zoon arrives there. Zoon calls Ritesh handsome. Ritesh thanks her and tries to lift her in his arms but feels pain. Zoon notices it and asks him is his wound isn't cured yet. Ritesh says yes. Indu lifts Zoon in her arms and the latter kisses her cheek. She then brings Zoon Zoon near Ritesh and Zoon kisses Ritesh's cheek also.
Zoon then asks Ritesh to hug her. Indu and Ritesh looks at each other before Ritesh hugs them both. Rahul sees Anjali and waves at her thinking she is acknowledging his presence only but gets upset when she walks past him and talks to Vivaan. Vivaan gifts her an expensive bracelet which Anjali refuses first but Vivaan convinces her so Anjali takes it and thanks him. Rahul gets sad seeing it. Dolly tells Sunita that she is upset and angry with them. Sunita gets worried and asks her the reason. Dolly complains that no one here is dancing in this mehendi function. She also asks Sunita to dance with her and takes her with her. Mehendi designer's applies mehendi on Indu's hand.
Dolly and Sunita starts dancing according to the song playing in the background. Both Malhotra's and Raina's joins and Anjali brings Indu to the centre. Ritesh sees Indu is struggling with her hair so he goes to help her. They both shares an eye lock. Zoon comes there which makes both Ritesh and Indu to smile.
Later Zoon goes to Indu and tells her that she wants to apply mehendi in her hand like her. Indu tells her as per school rules she can't so asks her to use the tattoo sticker. Zoon tells her but she wants to apply mehendi though. Indu refuses and apologises to her for not letting her apply mehendi then leaves the place. Neelam tries to take photo with Ritesh but fails. Rahul informs Ritesh all the media want is one interview from him. Ritesh refuses and says he isn't interested also asks him about the investigation. Rahul tells the investigation is on full swing but unable to get a clue about the person behind his attack though.
Other side Sameer gives Magesh his ticket to go to Bhopal and tells him that Kadambari feels that she dont want to risk anything by keeping him here so asked him to leave the city. Magesh gets furious and tells Sameer that he isn't Kadambari's servant to oblige her every instructions. He does everything as per his wish only and mocks at both Sameer and Kadambari then tears the ticket and leaves the place. Sameer looks on with anger filled eyes. In Indu's house Ritesh asks Zoon the reason behind her being sad. Zoon tells him that Indu refused to let her apply mehendi because it's against the school rules. Ritesh tells but she can apply mehendi which makes Zoon happy. He takes her to the mehendi designer.
Vivaan and Anjali flirts with one another which once again Rahul notices and gets hurt. Indu sees Ritesh and Zoon is with the mehendi designer so she goes and asks what's happening also stops the designer from applying mehendi on Zoon's hand. Ritesh takes Indu aside and tells her they are doing this all for Zoon's happiness so they should let her enjoy but Indu remains stubborn saying it's against school rules and she already had a conversation with Zoon's a school vice principal then leaves the place. She tells Zoon that she cant apply mehendi. Ritesh recalls meeting vice principal so he gets an idea and decides to execute it so that he can fulfill Zoon's wish to make her happy.
Indu sees Ritesh is waiting for someone at the doorstep so wonders who it is. Sunita gets emotional seeing Indu. She expresses her happiness to Indu also asks her to complete her mehendi then leaves the place. Neelam taunts Asha when the latter looks at the mehendi is being applied on everyone's hand so Vivek brings Indu there. Indu gets upset hearing Neelam's conversation with Asha. She goes to Asha and insists her to apply mehendi because she deserves to live her life a happy one. Asha gets happy and teary eyed when the mehendi designer applies mehendi on her hand. Sunita informs Indu that Zoon's school vice principal is here. Ritesh welcomes the vice principal then asks Zoon to say yes for everything he is going to tell her teacher. Zoon obliges and goes with him. Indu also arrives there. Both Indu and Ritesh gets into an argument over to follow rules or break it which is right one.
In the end despite Ritesh's attempts the vice principal refuses to let Zoon apply mehendi on her hand which upsets Ritesh. Zoon and her teacher leaves the place with Sunita while Ritesh and Indu tells each other the other person will never change. Ritesh gets determined to fulfill Zoon's wish.
Precap: Indu shouts at Ritesh saying she dont want him to spoil Zoon with money also teach her how to break the rules. Ritesh scolds her and asks her not to be strict because she isn't Zoon's real mother which hurts Indu. Kadambari arrives there and tells everyone that she is Zoon's real mother. Indu and Ritesh gets confused.
Click to read