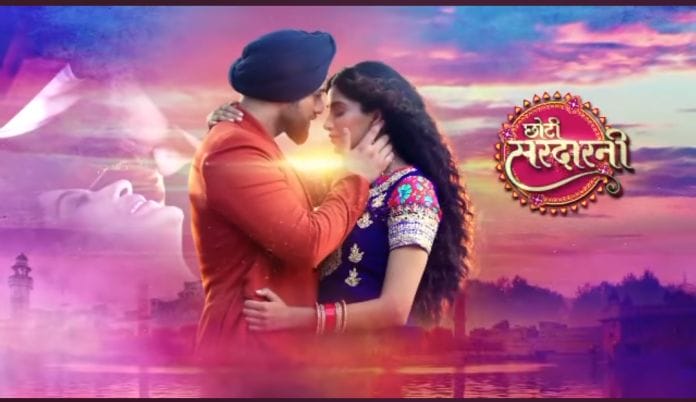 Choti Sardarni 4th February 2022 Written Update on TellyExpress.com
Episode begins with Khushi gives chilly paratha to Rajveer so he can forget about sweet paratha. Ginni takes Cherry to Rajveer and asks the latter to take care of him and leaves the room. Rajveer tells bed time story to Gullu. Khushi smiles seeing them together. She thinks that she has to do something so Prince can get his father's love. Seher comes there. Khushi tells her that Prince must be feeling sad seeing other kids spending time with their father and leaves from there. Seher thinks that she has to find Prince's father as soon as possible. Rajveer asks her that why she seems tensed. She tells him that she is fine. Kulwant tells Robbie that she can understand that what he must be thinking seeing Seher and Rajveer together. He gets confused hearing her. She tells him that as a father he must wants Khushi to lead a happy married life like Seher. Khushi tries to take selfie with Rajveer and Seher. But Rajveer leaves from there.
Kulwant tells Robbie that she is not understanding that how can a person leave Khushi and Prince. She asks him to share the details about Prince's father with her. She says that Khushi is like Seher for her so she won't leave the guy who left Khushi. Ranna and Bittu praises Rajveer. Robbie gets frustrated seeing that. Karan thinks that he has to reveal Devika's truth. Devika's brother stops Karan from reaching others.
Dolly and other ladies enjoys the party. Rajveer takes Seher aside and asks her that what's the problem. She tells him that everything is fine because he is with her. Robbie gets pissed off seeing them together. Kulwant tells him that she won't leave Prince's father for leaving Khushi. Robbie goes to Khushi and tells her that he won't leave Prince's father. He recalls Khushi's words about Rajveer. He says that he will kill Prince's father today. Harleen thinks that if Robbie exposed Rajveer then Khushi won't talk to them so she has to stop him. She tries to stop Robbie.
Kulwant tells her that she knows that the latter lied about Khushi's marriage when the truth is Prince's father left Khushi. She tells Khushi that she will help her. Khushi tells her that now she can't say anything about Prince's father but when the right time comes she will reveal everything. And till then they can ask other questions about her past. Seher asks Kulwant to respect Khushi's private life. Kulwant says that she just wants to help Khushi that's it.
Dolly reminds Kulwant that the latter let Meher marry Sarab even though Meher was pregnant with someone else's child. Seher tells her that she won't hear a word against Meher. Dolly says that Meher got pregnant before marriage and that's a fact. Kulwant tells her that she is not making fun of Khushi but want to support Khushi. Seher tells her that she is with her. Dolly says that Seher is pure soul but Kulwant is not like that. Dolly and Kulwant fights with each other. Everyone stops them.
Episode ends.
Precap – Rajveer tells Seher that Dida transferred his mansion on the latter's name. Khushi thinks that she can't let Rajveer leave the Gill mansion.
Click to read: