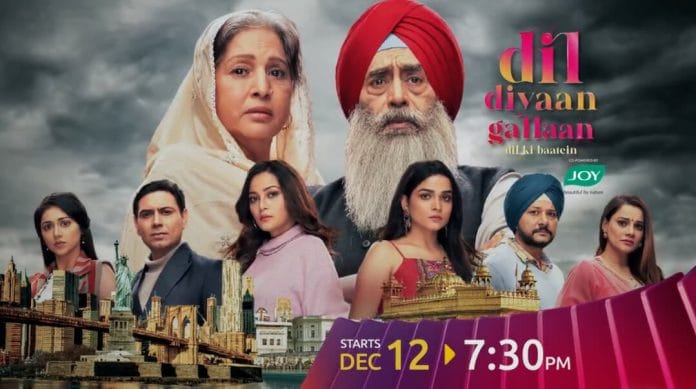 Dil Diyaan Gallaan 14th January 2023 Written Update on TellyExpress.com
The episode starts with Dilpreet giving advise to Amrita that she should always tell the truth to her father. Ria comes there and asks him what he is telling Amrita? He leaves saying nothingg important. Ria tells Amrita that she should not get close to her grandfather much. Veer leaves hurriedly for an urgent work. Ria asks what kind of work? He says he will tell later. Dilpreet teases Ria saying Veer ignored her. Ria says she will kill him if he does that. Dilpreet says if she has any feelings for him. Ria hides her emotions. Parwindar comes and teases Veer and the latter praises her beauty. Veer and Amrita leave for work in Jeep. Parwindar feels like they will start loving each other very soon. She prays to God for them.
Amrita recalls Dilpreet's advise that she should not support lies. She reaches the destination and says one secret separated her whole family and now she can't lie repeatedly to make things worse. She should stop Maan from signing the NOC papers. She calls Adi to tell him to stop Maan. There Kushwant's man keeps eyes on Veer and Amrita. He informs Kushwant that he will learn who sent the dollars soon. Amrita says why Adi is not answering her calls.f She gets restless and Veer asks her who is Adi? She says her best friend. Amrita calls Astha and asks for her help. She tells Astha to stop Maan from signing the NOC. she will explain everything later. Astha obeys her and Amrita gets a positive thinking that Maan won't sign it now.
There Maan asks Adi why he looks stressed as if something is bothering him. Adi looks scared and Veer asks her to focus on their work if her call is over. Veer gives investor's details and Dungar Pal's letter to her saying he can't meet the DWD officer as he will recognise him and Dilpreet. Amrita says she knows what to do, she will drop the registration and will know who sent the dollars to Dilpreet's account. Veer asks her to take care of herself. He says he doesnt trust the officer at all. Amrita says she will not give up but will finish her work sincerely. She knows her father is not the culprit.
Kushwant rides the bike and says when Dilpreet will lose the land then only his dream will get fulfilled. Amrita talks to the officer saying she has come with a proposal for him. He recognises her that she is Dilpreet's guest. Amrita says she works for a foreign company and she wants to grow a rare ayurvedic plant. She is searching for land here for that. She shows the papers to the officer and Kushwant reaches the court with his men. He says he won't spare Veer or Amrita today for trying to be over-smart.
Precap- Veer fights Kushwant's men and Kushwant picks Astha's phone call. He warns her to control her daughter as she is creating scene in their village. Astha gets shocked and Amrita finally reveals to her she is in India.
Click to read