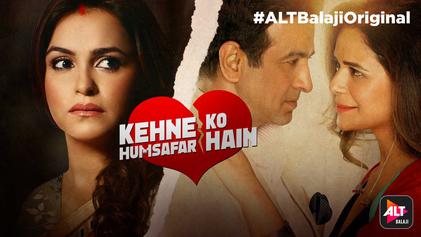 Kehne Ko Humasfar Hain 27th March 2020 Written Update on Tellyexpress.com
Rohit apologizes to Poonam but she outbursts on him. He says he loves Ananyaand she says she has spent her major time of life with him, taking care of children and supporting him and now when he has become successful he can't leave her. He says he didn't do this intentionally. Poonam talks about his other affair that was 6 years ago when she forgave him and he promised that it won't happen again.Rohit's mom comes and asks why are they fighting but he asks her to go out. He tries to explain himself to Poonam but she asks him why does he do this to her despite of her giving priority to husband and family and breaks down.
Meanwhile Ananya asks her friends to stop talking about her and Rohit when he calls toinform her that he has told the truth to Poonam.Bani asks Poonam to not push her to get married to which she asks what is the problem in getting married to the person you love.Bani says she is not sure about her feelings for Arya. Poonam says that she has to get married before Rohit's affair comes out in front of the world. Bani says that she wants to make her own identity before getting married. She asks Poonam to control Rohit and not let his affair affect her life.
Rohit goes to Ananya's house. She asks about the situation at his home but he denies to talk about it.He says he is feeling guilty and ashamed of himself for saying to his wife that he is leaving her. He talks about every moment when she supported him in the past and that instead of repaying the favor he is snatching away her rights. His daughters are growing and he can't understand what he should feel like.
Ananya asks him to leave her and goes. Rohit asks him why she is reacting this way to which she responds that he was the one who came to her saying his marriage is over. He says he is still saying the same and he loves her.Ananya tells him he never chose her, she is a single woman in front of the world and she was going well with it but now she is living like a married woman but alone. She asks him to either be with her completely or fulfill his loyalty towards his wife.
On breakfast table, Nikki teases Bani and they start fighting on which Poonam gets angry.Rohit's friend makes him understand that every man returns to his home at the end of the day. Ananya's friends tell her that nothing is going to change and Rohit is not going to leave his wife.Ananya remembers her time spent with him and wonders why is their relationship so bad in the eyes of others. Meanwhile Poonam asks Arya to come home from back door next time onwards to avoid Nikki snooping around. Poonam talks to him about taking their relationship further ahead.
MeanwhileBani comes and interrupts them and says that she doesn't want to get married. She spills out the truth about Rohit's affair and Nikki hears it. Arya leaves and Rohit is standing at the door. How will Nikki handle the truth and what happens further is to be seen.