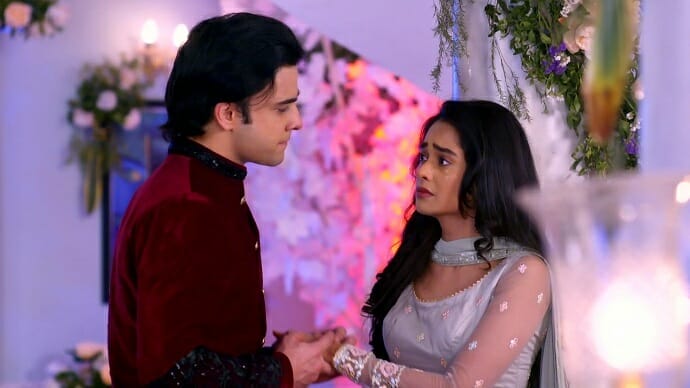 Kumkum Bhagya 14th November 2022 Written Update On TellyExpress.com
The episode starts with Aryan holding Shahana's hand while hugging Mili. Shahana removes his hand and leaves the room. Ranbir comes out of the washroom and leaves. Prachi waits near the doorstep to receive the report. Rhea decides to confront Prachi but she slips. That time someone takes Prachi closing her mouth. Rhea stands up and notices Prachi's missing. She thinks about whom she needs to stop, Alia or Prachi. She decides to stop Alia. Shahana runs out recalling Aryan and Mili's hug. Aryan tries to tell Shahana that she is misunderstanding the situation. Shahana tries to explain to him what she felt. Aryan asks her to relax. Shahana notices Rhea is following Alia. She feels something is fishy and follows Rhea without listening to Aryan.
Prachi asks Ranbir why he bought her in this way. She requests him to let her leave as it's her sangeet. Ranbir says he can't let her leave as he has rights on her. Prachi is about to leave. Ranbir asks if she can leave him. Prachi nods yea. Ranbir asks her to show it. Prachi is about to leave but she can't leave hearing the song played by him. He romances Prachi. She hugs him. Ranbir dances with Prachi.
Rhea stops Alia and asks her to not meet her man as they are trying to act over smart and he is not in your control. Alia says she has to know why he called her. Rhea asks Alia to handle the report and tells her that she will meet her man. Alia agrees and wishes her luck. Alia goes inside. Shahana hides in Rhea's car trunk. Ranbir asks Prachi why she didn't leave. Prachi says his heart stopped her. Ranbir says my heart told you many things but you heard only one. Prachi looks on. He makes her sit on the sofa and applies Mehendi to her. Prachi says it will make her caught and tells him that she will remove it as it won't be good if someone sees it. She gets surprised to see Pranbir. Ranbir says it's their name and promises her that he will never let it get separated. Prachi gets emotional. He asks her to wash it once it's dried off. He leaves.
Alia waits for reports. Guests make Alia busy. That time a courier boy comes there. Sid receives the report. Ranbir notices it. The report falls for Sid's hand and it falls near Aryan's feet. Aryan takes it. Sid says I can confidently say Rhea's baby doesn't being to Ranbir. Sid notices Dna is not matching. Ranbir takes the report and notices it.
Madhurima goes to the hospital and learns nurse sends Kinjal reports to Rhea's house by mistake. Madhurima asks Nurse to give Rhea's report to her but the nurse denies saying she can't give Preethi's case report to her. Madhurima calls Rhea and asks her to take her report from the hospital storage room. Rhea asks her to do it. Madhurima tells her she can't take this risk as she may lose her license. Shahana hears it and thinks to inform Prachi but it doesn't happen because of a lack of signals. Rhea calls Alia and informs her that the wrong report is delivered to our house and my report is still in the hospital so do something. Alia assures her she will do something. Alia collides with Pallavi. Pallavi asks where is she going in a hurry and asks if everything is fine. Alia says everything is fine and leaves. Prachi witnesses it and thinks everything is not fine. Sid says this report is proving Rhea's lying. Ranbir says it's not Rhea's report and leaves throwing it. Sid gets shocked seeing Kinjal's report.
Episode ends.
Also See: