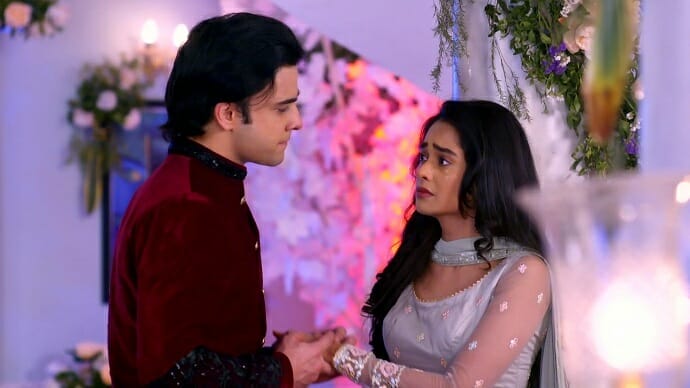 Kumkum Bhagya 18th November 2022 Written Update On TellyExpress.com
The episode starts with Rhea warning goons to make her leave for their better future otherwise she will ruin them. The Goon threatens Rhea to stay within her limit. The waiter says Mihika is correct about Rhea's fate. Rhea throws a box at him. Goon threatens her to stay calm. Mihika pleads with Goon to leave her and offers to give him as much money as he wants. Goon denies her request and tells her that police may arrest them if they leave her. Ranbir and Shahana come there as police. Goon alerts everyone saying the police came. Rhea takes the gun from one of the goons and aims it at him. Goon smiles at her. Rhea shoots at him and realizes it's an empty gun. She escapes from him.
Prachi thinks to go inside to save Rhea but she hides again seeing goons. Dida calls Prachi. Prachi attends the call. Dida asks where is she. Prachi tells her about the problem they are in. She asks Dida to handle the situation at home. Dida agrees and wishes her luck. Prachi cuts the call. Sid asks Dida why Prachi is saving Rhea. Dida says it's the difference between Prachi and them. She gets an idea to manage Pallavi. Prachi thinks to go inside with confidence. The main goon scolds his subordinate for making the Police enter their place. Ranbir and Shahana hide seeing goons. They realise what they are doing and come out. Goons ask them if they are really police. Ranbir says they are real police and discussing how to catch them. Ranbir asks them to tell them where are the kidnapped girls. Aryan comes there in Gabbar attire. Goons bring Rhea and Mihika. Ranbir gets shocked seeing Mihika with them. Goons throw some powder at Ranbir and co and hide from them. Aryan threatens to blast a bomb if they didn't come out from their hiding spot. Goons come out and try to escape but they stop seeing disguised Prachi who came to help Ranbir.
One of the goon goes gaga over Prachi's beauty. Prachi requests a Goon to leave all for her. He agrees. Ranbir asks him why he is listening to her. The main Goon warns his men to be in his limit then the goon refuses to follow Prachi's request. Rhea asks Ranbir to do something. Ranbir slowly says let's leave slowly. The main goon fires the gun and warns Ranbir and co to not move. Ranbir thinks it's action time.
Ranbir acts with Aryan to scare the goons. Shahana takes the guns from the goons. Ranbir asks Shahana if everyone gave the guns. Shahana says yes. A goon holds Prachi hostage and asks the police to raise their hands. Ranbir and Aryan plead with the Goon to release Prachi. The goon understands that they are not really police. Shahana also says this is not the real gun. Ranbir asks Shahana why did she say about the gun. Shahana apologises to Ranbir. Aryan pleads the goon to leave him and he steals the gun from the goon. The goon seeing the gun laughs at him. Rhea recalls that the gun doesn't have bullets. Ranbir starts taunting the goons thinking now he has a real gun. Aryan calls Ranbir and says there are no bullets in the gun.
Episode ends.
Also See: