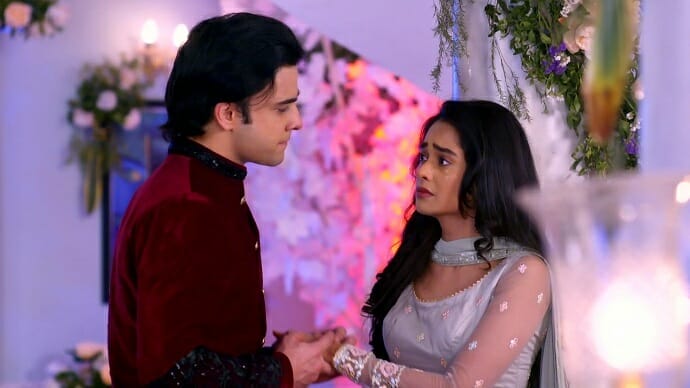 Kumkum Bhagya 20th January 2023 Written Update On TellyExpress.com
The episode starts with the Goons saying to Alia that Ranbir and Prachi brought the police and they run away from there. Prachi and Ranbir say they didn't bring the police. Alia tells them to stay far away. The whole Kohli family reaches there. Daljeet,Rhea, and Aryan try to convince Alia to give the baby to them but Alia doesn't listen to anyone. Alia takes a step back. She accidentally steps on a rock. The baby falls into the river. Prachi loses her consciousness seeing this and Alia sees that everyone is distracted and escapes from there. Rhea says she is going to the police as they are preparing a rescue team to search for the baby. Ranbir says he will also come with her.
Rhea asks Ranbir to take care of Prachi. Prachi regains consciousness and asks Ranbir why is he staying here and doing nothing? Prachi blames Ranbir for the baby not being with them. Ranbir gets angry and accuses her that she is the reason for Panchi not being with them. Ranbir asks Prachi what is the reason to send Alia to jail? Ranbir says if Prachi didn't send Alia to jail then she wouldn't have come to take revenge. Prachi reminds Ranbir she is the baby's mother. Ranbir reminds Prachi that he is the father and blames Prachi. Prachi says it's his mistake. They blame each other. Ranbir breaks down. Pallavi stops Prachi and says it's your mistake that we lose our grandchild and she is dead. Prachi says her baby is alive. Ranbir asks how can a baby be alive after falling from a height and you're the only mom in the world who killed her own baby. Prachi warns him to not to in that way. Ranbir says I will talk as it's the truth and you snatched my happiness and kid. Prachi asks him to not repeat his past mistake. Ranbir asks if she will leave him? He asks Prachi to leave the house. Everyone gets shocked. Prachi tries to talk. Ranbir says you can't justify your actions so leave. Prachi tries to say something. Ranbir says he just hates her and asks her to leave from his life. Prachi leaves in tears. Shahana tries to stop Ranbir. Ranbir warns her and says she can leave too if she wants.
Prachi comes to the place where her baby falls. She searches for her baby. Lorry hits Prachi then she falls into the river. Police witness everything. Ranbir receives the call and gets shocked. Pallavi asks him what happened. Ranbir says Prachi met with an accident and she falls in the same river where my fall and police didn't find her body. Shahana blames Ranbir for Prachi's death. She says she is feeling suffocated seeing them and leaves. Ranbir goes to the place but the police stops him. Ranbir says his Prachi will be alive and he searches for her. He leaves in his car.
Pallavi calls Rhea and informs her of everything. Rhea says she will go near the accident spot. Ranbir recalls his moments with Prachi. He hits a tree while escaping from the truck. Rhea comes to that side and sees Ranbir met with an accident. She takes him to the hospital.
After 2 days, Ranbir wakes up. He says he will search Prachi and Panchi. Pallavi and Dida say Prachi and Panchi are no more and police found a dead body. Rhea says police said it can be Prachi as Body is decomposed. Ranbir cries for Prachi and falls unconscious.
After 6 years, In Delhi, Ranbir buys chunri for his 6 years baby. 6 years girl goes to Prachi. Prachi tells the baby that she will get her ready before her dad comes. Baby says dad said he will get me bangles and chunri. Prachi says his taste is bad so let me ready you. Ranbir buys red bangles. Prachi shows the red bangles to her daughter and says it's perfect for her.
Episode ends.
Also See: