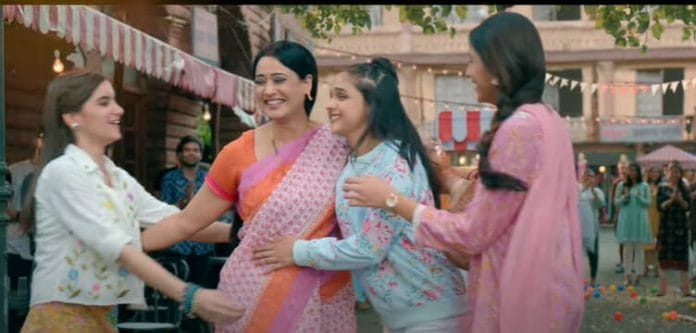 Main Hoon Aparajita 1st November 2022 Written Update On TellyExpress.com
The episode starts with Aparajita telling the payment amount to the customer. Lady apologizes to Aparajita for not helping her in the last night and tells her that her daughter in law didn't allow her. Aparajita says it's fine and delivers her parcel. She asks Lady to meet Amma frequently so they know about her and Amma doesn't feel lonely. Lady agrees and says wish everyone get daughter in law like you. She says tomorrow is Kanya puja at your place and I will send my granddaughter. Aparajita says it's good. Lady says to stay in this way and doesn't get defeated. Aparajita says she won't get defeated as she has her daughters.
Guffran and Disha return to the shop with a smile. Aparajita asks them what happened as they look so happy. Disha doesn't let Guffran reveal about Mohini. Mohini comes there saying how dare you. She tells Disha that she will handle her later. She asks Aparajita how dare she to live as their neighbor and asks didn't she get any place.
Aparajita says you don't have right to question me. Mohini says I know your intentions but I won't let you snatch anything from me, your house, husband, Mangalsutra everything is mine so leave as soon as possible from here. Aparajita asks her kids to do their work as Mohini agreed by herself that she snatched my things. She tells Mohini 'you don't know the value of mangalsutra and it's mangalsutra until I wore it but now it's just gold chain in your neck' She says you got defeated by snatching things from me and you're insecure that's why came here to fight with me.
Aparajita asks Disha to arrange for Kanya puja. She tells Mohini that she won't forget her responsibilities and will do Kanya puja in her place. Mohini says she won't let Puja happen. Aparajita asks her to stop seeing dreams. She throws water at Mohini's face and tries to wipe her face but Mohini stops her. Aparajita says wish it's easy to clean your soul like I cleaned your face. Mohini leaves.
Mohini calls her brother and asks him to do her work immediately if he is really her brother. Chavi says Mohini left in anger, hoping she won't create a problem for our Kanya Puja. Meenakshi comes there with goons. Goons hold Guffran tightly.
Meenakshi asks them to make Aparajita vacate the house by throwing things. Goons try to enter inside but Chavi and Disha try to stop them. Aparajita warns goons to break their heads. Meenakshi says seems like you learn Rowdygiri from your daughter. Aparajita reminds Meenakshi about their agreement and tells her that she needs to give them notice if she wants them to vacate the place. Meenakshi says the agreement time is ended and only 15 days left. Aparajita says 15 days are left.
Mr.Chadda comes there and asks Aparajita to stay at their place with the right as they are paying them rent. Aparajita thanks him. He tells her he extended the contract for 7 months and gives her the agreement. Aparajita thanks him. Meenakshi says she is agreeing because of her husband and tells her that she needs to double the rent after the agreement. They leave. Aparajita applies ice to Guffran marks.
Manish calls Mohini and informs her Meenakshi failed in her plan. Mohini says she won't let Aparajita live peacefully. Amma comes there and tells her that she can't do anything to her daughter and we will get prasad from Aparajita. Mohini breaks the cup. Amma says I don't want to see your face daily, wish Aparajita take me from here otherwise it's good to dead. Mohini says she will kill her.
Mohini calls Rohit and Adin. Mohini says to them Dadi wants to go up. She asks them to send Dadi up without any discomfort for Dadi.
Aparajita does first aid for Guffran. Asha says there is no difference between their life and school as one exam comes after another. Aparajita teaches a life lesson and encourages them. All the girls along with Aparajita dance for Kaala Chasma song.
Aparajita thinks of Dadi and says how she feels without Dadi. All the girls hug to comfort Aparajita. Rohit and Adin take Dadi upstairs and put her in the guest room. Dadi asks them why did they bring her upstairs.
Mohini says she is going to stay here thinking of Aparajita. Mohini says to Dadi that she can stay here. Mohini leaves from there. Dadi cries to herself thinking of Aparajita. The daughters select a saree for Aparajita. The girls decide to do a makeover for Aparajita. Chavi praises Aprajita saying she looks stunning. Aparajita sees the neighbors coming with the girls and invites them inside. They say they are going to Mohini's house. Aparajita says she already messaged them that they will do Kanya Pooja here. Puppy says they know but Mohini is giving a gold coin for a Kanya. Puppy praises Mohini and takes the girls there.
Episode ends.
The episode starts with Aparajita purchasing things needed for puja. She counts the chunri set. She says they are 8 and 1 is missing. The shopkeeper says it's the last set and he may order it if she told him before. Puppy comes there. She says I heard Mohini throw you out last night it means you're not the bahu of that house. Aparajita says the truth is in front of you and no one can take the place except Shiv Ji. Atmosphere changes. Mohini leaves in her car. Devi maa chunri flies from Akshay's house and falls on Aparajita. Aparajita feels happy to get it. Aparajita says Puppy you hear gossips well but you're deaf when we call you for help. Puppy leaves aside.
Akshay comes there and asks what's she doing in the colony. He asks where are his daughters and tells her that he is worried about them. Aparajita says they are her daughters. She reveals to him they are staying in the laundry house to fight for their rights. Akshay says you want to take revenge on me that's why you're staying here to tell people that I'm a low level man who throws out his wife and daughters from the house. Aparajita says it's the truth so no need to tell anyone. Akshay asks her to not cross her limits. Aparajita says till now I'm in limits but you throw me out and the person who's in front of you mother of my kids. She tries to leave saying she is getting late for puja. Akshay is about to say she is still his wife but he stops. Aparajita returns and tells him that their relationship ended long back. Akshay says you refused my gifted house and staying in 3rd grade place. He asks her to tell people about it. Aparajita mocks him for buying a house in a village that is far from their college and her shop. Puppy and others smile at him. Akshay asks them to leave. He tells Aparajita that they need to save their daughters from strangers. Aparajita says her daughters have fear of near ones. She leaves.
Also Check: