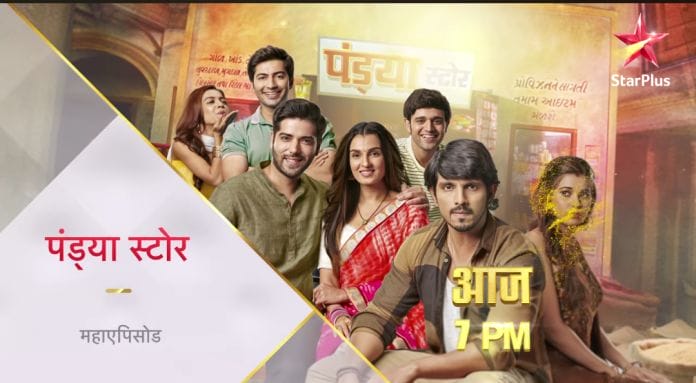 Pandya Store 10th January 2023 Written Update on TellyExpress.com
The episode starts with Krish telling Dhara and Gautam that Mansukh is going to buy Pandya Store and he is going to give her advance money. Gautam says that he knows about this as people were talking about it in the market. Krish asks Gautam why he didn't tell them about this and why he didn't do something. Dhara asks Krish who told him this. Krish says that he met Mansukh in the xerox shop and he told him that. Krish then tells about the beggar laddy who used to be with Shweta became Mansukh girlfriend now. Dhara asks if he is talking about the lady who created ruckus with Shweta outside their house. Krish says yes.
Meanwhile Mansukh and the lady meet Shweta. He gives her the legal papers. Shweta reads and takes advance money from Mansukh. They decide to register the papers the next day. The lady asks Shweta to give thousand rupee as she fixed this deal. Shweta throws the money on the floor. She picks it up. Mansukh says to Shweta that Pandyas are in bad situation ever since she took their shop away from them. He adds that they're going to sell Pandya Nivas now. Here, Dhara gets happy to hear this and asks Krish if he says the truth. Krish says yes and asks why she is happy for that. Dhara says that Shweta will come here as soon as she learns that they're going to sell the house. They will refuse to sell the house to her. There, Shweta asks Mansukh if he says the truth. Mansukh says yes. Shweta becomes happy and postpones the registration. Mansukh asks why. Shweta says that this is her shop, so her wish.
Here, Krish asks Dhara why they will refuse. Dhara says that Shweta will get suspicious if they agree immediately. Dhara further says that to avoid doing the same mistake that they did, Shweta will read each papers minutely and their plan fail in this case, so they will deal the house's deal through the lady. Krish asks why she will support her when she is with Shweta. Dhara says that they will turn that lady against Shweta by giving her money. There, Shweta says that she wants to witness Pandyas losing everything. She asks Mansukh and the lady to go out of the shop. They leave. Shweta closes the shop and is about to leave. Dhara bumps into Shweta and drops the pamphlet about selling Pandya's house. As Dhara has her face covered with the duppata Shweta can't recognize her. Shweta sees the pamphlet. She takes the pamphlet and decides to fix it on the wall by herself. After Shweta leaves, Dhara calls Raavi and alerts her that Shweta is coming.
On seeing Shweta, Raavi ans Rishita put up an act in front of Pandya house. They lament about having to sell Pandya house. Shweta eavesdrop their talk. Raavi says that she wishes Shweta buy their house too. Rishita says that Shweta will never buy their house. Raavi says that if she was Pandyas enemy, she will definitely buy the house. They instigate Shweta to buy the house through their talk. They go inside to cook and say that they have very less ration.
Shweta goes to Pandya house. Shweta says to Suman that the Pandyas gave her shelter so it's time for her to pay their favor back. She says that she will buy their house and offers 25 lakh. Pandya ladies get happy. Raavi and Rishita thank Shweta for buying the house. Dhara pretends to scold Raavi and Rishita and refuse to sell the house to Shweta. But Rishita and Raavi pretend to argue with Dhara and firmly say that they will sell this house to Shweta. Dhara stays adamant in her decision and asks Rishita and Raavi to leave the house. Shweta says that this house belongs to Suman, so she will decide. She asks Suman to sell her house to her. Suman refuses and supports Dhara's decision. Suman gets violent and throws vegetables on Shweta. Dhara is worried that Suman is doing overacting. Raavi and Rishita stop her. Dhara drags Shweta out of the house and throws her. Shweta gets determined to buy the house.
Pandya ladies are happy with their performance in front of Shweta. They decide to execute their next step. Rishita decides to talk to the lady who is with Shweta. Suman asks Rishita not to reveal about their plan to her. Rishita agrees. Just then, Krish arrives and says that Shweta seemed unhappy, so she must be plotting something as she's smart. Dhara says that she knows how to handle her. She asks Krish to keep an eye on Shweta while Gautam and Dev find job.
Shweta is in the shop wondering to find an idea to buy the Pandya house. Krish watches her hiding. Shweta gets an idea on seeing pesticide bottle. Shweta leaves locking the ship taking that bottle. Krish sees this and worries about whether Shweta is going to Pandya house to kill his family in order to take her revenge on them.
The episode ends.
Precap: A boy writes letters to Dev-Rishita, Shiva-Raavi and Krish asking them to return home as Suman is unwell. They all are in different places.They tear the letters refusing to return. Dhara asks Suman to act that she's dead. Suman obliges. A boy shows welcoming two kids inside the Pandya house.
Click to read