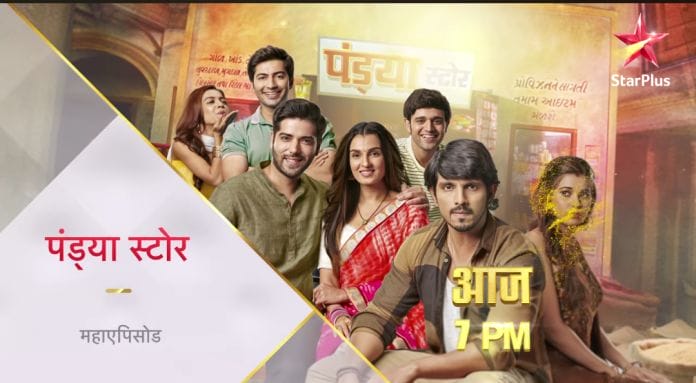 Pandya Store 14th November 2022 Written Update on TellyExpress.com
The episode starts with Rishita showing to Shweta the pregnancy kit that she got from her room and questioning her about it. Shweta puts on an act. She begs Rishita not to question her about it. She goes to the temple in the house and starts her acting. She prays to God, asking him to help her as she doesn't want to break the promise and tell the truth
Rishita asks what truth, what promise. Shweta waits for the Pandyas' arrival to announce Raavi's pregnancy. Just then, Pandyas return home. They are surprised to see Shweta ringing the bell standing in front of the temple. Rishita takes the ring from Shweta's hand and asks to tell her what the pregnancy kit is doing in her room.
She asks whom she got the kit for. She says that the daughters-in-law of the house can't need this and asks in a Sarcastic way if she bought it for Suman then. Suman gets angry at hearing this and scolds Rishita. The latter apologizes to Suman. Dev also scolds Rishita. The latter says that she said it mistakenly. She asks them to come to the point. She shows the pregnancy kit to Krish and says that she got it from his room.
Krish says that he doesn't know. He says that he doesn't even share a friendship bond with Shweta, so he doesn't know any idea about the pregnancy kit. Krish regrets saying it in front of everyone and feels humiliated. Shiva taunts Krish. Gautam scolds Shiva and asks him to focus on his relationship with Raavi. Rishita asks them to listen to them. Krish scolds Rishita for bringing his personal topic in front of the family. He repeats that he doesn't know anything about the pregnancy kit and he doesn't even know Shweta well.
Rishita asks Krish to tell them their relationship has reached the level of pregnancy. Krish leaves. Rishita asks Shweta if she has any new secret lover in her life to use this pregnancy kit. Gautam shuts Rishita up and asks her to let Shweta speak. Shweta pretends to commit suicide by trying to jump into the well. Gautam and Dev stop her. Gautam scolds Rishita for not being able to handle this matter maturely.
Rishita apologizes to Rishita. Shweta says that Rishita isn't at fault. She says that no one can believe her after her past. She says that she will leave the house. Suman stops Shweta and asks to tell her about the pregnancy kit. Shweta says that Dhara and Raavi prohibited her from telling them before confirming it. Gautam asks if Dhara is pregnant. The Pandyas are happy to hear this. Shweta says no, it's not Dhara. Shiva says Raavi and stands shocked.
In the hospital, Raavi wants Shiva to know first about her operation. She is confident that Shiva will come running to the hospital as soon as he learns about her operation as he can't see her in pain. She hopes that everything will be fine between them. At Pandya's house, Shiva asks Shweta if Ravavi's pregnant. He asks if Raavi said this. Shweta says no. She says that Raavi fainted as soon as she returned. She says that Rishita was also there when it had happened.
Rishita agrees but she says that she doesn't know this is the reason. Shweta says that she overheard Dhara and Raavi's talk. After that, Dhara asked her to get the pregnancy kit, but when she returned home, no one was at home. She says that Rishita saw her being alone at home. Rishita confirms that. Shweta says that after that she has gone to get Chiku's medicine and returned, but they are all questioning her.
She says that she promised Dhara that she wouldn't tell anyone this, but Rishita forced her to say that. Shiva asks if she knows to which hospital Dhara and Raavi could go. Shweta says that maybe to the city hospital. Suman says that they're coming from the city hospital. Shweta is surprised to hear this. Pandyas are happy about Raavi's pregnancy and they congratulate Shiva while the latter stands shocked. Suman asks to celebrate the good news by playing drums. Shiva walks out of the house.
The Pandyas celebrate by playing drums and dancing. Krish returns home and sees this. He asks Shiva why they are playing drums. Shiva shouts at Krish and drives off. Krish goes inside and asks the Pandyas why they're celebrating. Gautam says that he is going to become an uncle. Raavi is pregnant. Krish is overjoyed and dances. Shweta thinks that soon a storm will hit this family and every relationship will fall apart.
The episode ends.
Precap: Shiva angrily breaks things. He accuses Dhara of betraying him. He asks Dhara what happened to Raavi in the hospital. Dhara says that Raavi had a fibroid removal operation. Shiva asks fibroid or abortion. He shows Rishita Raavi's report. Rishita reads it and says that the fetus was removed shocking all.
Click to read