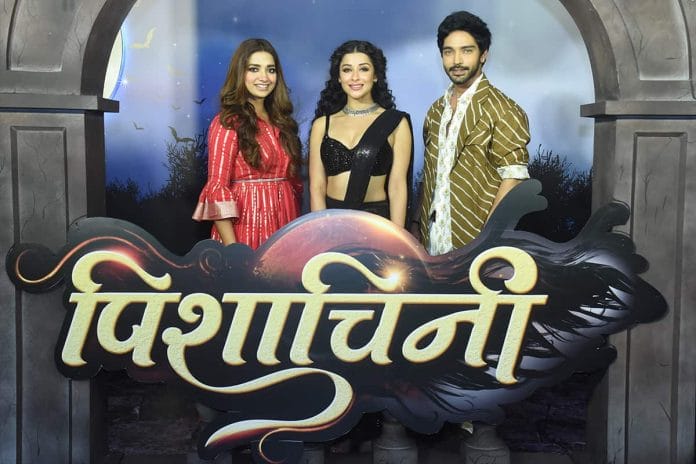 Pishachini 14th November 2022 Written Update on TellyExpress.com
The episode starts with Pavitra saying to Veer that she started to doubt him from the day he entered the house. She says that he waited to be called before entering the house thrice. She further says that her doubt grew stronger. She says that he claimed to be Nashak, but he didn't know about the liquid. She says that then she found a big nail in the forest and doubted that it could belong to Maha Pishach. She says that she had read in her grandfather's notes that Pishach would come if one tried to burn his belongings. A FB shows Pavitra placing the nail in the fire and walking away. Veer comes there and takes the nail from the fire. FB ends.
Pavitra says that she learned that he wasn't Nashak, but Maha Pishach that day itself. She further says that she understood that he didn't come to save Rani, but had some other big motive. She wanted to know his motive. She says that she understood that she was his target when he used the blue stone which he read about in the Nashak book to make her go along with him. Maha Pishach says that her smartness won't save her as she is trapped with him alone in the jungle. Meanwhile, Rocky is following the glitter to find Pavitra, but at one point, he doesn't find any glitter. He understands that the glitter must be finished. So he decides to follow the footprint. He hears some sound.
Here, Maha Pishach says that Pavitra is alone and waiting for her death in front of Maha Pishach. Pavitra says that he is also alone and she intentionally took him away from her family so that she can put an end to him. He takes Maha Pishach avatar. There, a deer is about to attack Rocky. Someone saves Rocky. Rocky asks the person who he is. Here, Maha Pishach says to Pavitra that he wants to become the strongest Pishach to rule alone. He calls the green rainfall. It starts to rain in a green color. Rani is scared of seeing the green rainfall. She says that if Maha Pishach's power increases, her power will be weakened. She shouts no. She says that she will never be freed. Rani gets slowly pulled inside the tree.
The Rajputs are shocked to see green rainfall and wonder what it is. Vidya says that she read it in Nashak's book. She says that this rain happens when Maha Pishach drinks the blood of prey. The Rajputs are worried about Pavitra and Veer. Vidya worries about Rocky too. The mysterious person makes a way between the rainfall for Rocky to find Pavitra. Maha Pishach says to Pavitra that the green rainfall will reduce her power. Pavitra says not that easily. Pavitra attacks Maha Pishach using her power. There, Rocky asks the mysterious person how he can fight with Maha Pishach. The mysterious person gives him an arrow shooter. Rocky goes following a deer.
Here, Maha Pishach captures Pavitra in a ice block using his power. He laughs at Pavitra by saying that she can't do anything and has to be captured in this ice block till her death. Pavitra chants Hanumanji mantra and comes out of the ice block by breaking it. Maha Pishach grabs Pavitra by her neck and lifts her in the air. He says that no one can save Pavitra now. He asks the green star to pour the green rainfall on Pavitra. The rain falls over Pavitra and her power decreases.
At the Thakur mansion, Shikha is adamant to go to find Veer, Pavitra and Rocky. Sanchit and Vidya decide to accompany her. Rani can't believe that she has to pray for Pavitra's victory. She prays to the evil power that whether Pavitra or Rocky, whoever is fighting with Maha Pishach, should win and put an end to Maha Pishach. Maha Pishach starts a countdown of five to kill Pavitra. Rocky arrives there and shoots the arrows around Maha Pishach. Pavitra is happy to see Rocky.
The episode ends.
Click to read