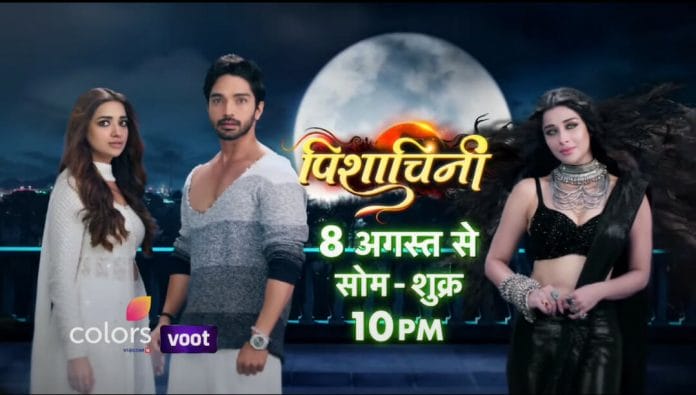 Pishachini 14th September 2022 Written Update on TellyExpress.com
The episode starts with Pavitra clicking a picture of Rani's real avatar. Rani tries to stop Rani from showing her photo to the family by using her magical power. But Rani's magical powers don't work on Pavitra. Rani tries to snatch the phone from Pavitra's hand. Pavitra asks why Rani is behind Rocky. She pushes Rani away. Rani transforms into Pishachini. She attacks Pavitra by throwing plates at her. However, Pavitra doesn't get hurt. Pavitra pushes Rani again and breaks a glass on her head. Rani attacks Pavitra by throwing a plate at her. Pavitra moves away. Rani feels a jolt of shock and is thrown away when she touches Pavitra's mark on her hand.
The family and Rocky rush to the kitchen, hearing noises. They are shocked to find the mess in the kitchen and Rani sitting on the floor. The family help Rani get up and asks what happened. Rani lies that a bird entered the kitchen. Pavitra says that it was a scary bird and she took its photo. Pavitra shows the photos to the family. The family sees only the empty kitchen in those photos and question Pavitra about the same.
Pavitra checks the photos and is shocked not to see Pishachini in any of those photos. After everyone leaves, Rani says to Pavitra that she can't be captured on camera. She mocks Pavitra that she was again defeated against her. Pavitra asks then why she tried to snatch her phone. Rani says that she will understand it very soon.
Suman and Sapna tell Dadaji about celebrating Rani and Arjun's wedding at home. They leave. Dadaji checks the potli given by the priest, hoping to find anything which will help to stop Rani and Rocky's wedding. He finds a key. Pavitra is trying to convince Rocky that Rani played a trick not to get exposed. Rocky refuses to believe her and accuses her of attacking Rani. A FB shows in which Rani provokes Rocky against Pavitra, saying that Pavitra attacked her. Pavitra denies the allegations. But Rocky doesn't believe her.
Pavitra says that she will prove her right and requests Rocky not to marry Rani else she will destroy his and his family. Rocky says that he won't marry Rani if Pavitra says that her heart says that he won't marry Rani. Pavitra says that she can't think about anything else than reaching her goal. She says that she can't get diverted from her goal. She says that she doesn't know how to make him understand this. Rocky says that he understood and leaves. Rani comes there and mocks Raani. She says that she will soon turn Pavitra a Pischaachini too. She mocks that Pavitra should dance on her sangeet, becoming her sister as her family died, including her brother who had drowned in the well.
Dadaji remembers the priest's words. Dadji thinks that the key found in the polti has some connection with Rani. He comes to Rani's room to find the same. Meanwhile, Pavitra is searching around the well for Vika's dead body. Vikash's body is shown lying on the tree branches. Maddy is seeing this hiding. Maddy forgot to get rid of Vikash's dead body and is scared of Rani's reaction when she learns this. Pavitra is surprised when Pratik and Amrita get there. Prathik says that Sudhakar called them.
Amrita says that they came here by mistake. Pavitra says that Pishachini is there and no one believes her, including Rocky. Prathik says that they know, so they have come here to help her. They hug Pavitra. Meanwhile, Nikitha is shocked to find Pavitra and Amrita's dead bodies in their house and cries. Here Maddy sees Prathik and Amrita changing into Pishaach and says that two more Pishaach.
The episode ends.
Click to read