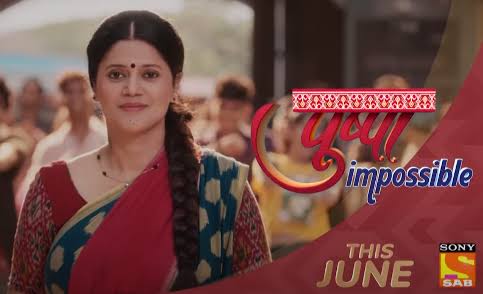 Pushpa Impossible 3rd August 2022 Written Update on TellyExpress.com
The episode starts with Nanavati thanking Pushpa for supporting Rashi and staying by her side. Pushpa says its them who need to be thanked for getting justice for Rashi. She says that children these days get everything but doesn't have the knowledge to use it wisely. She says that it's their duty to tune the future generation aware of all the pros and cons in life to shape them well.
Everyone clap for Pushpa. Pushpa hugs Rashi and take her with her. Pushpa finds Rashi upset in auto and tries lifting up her mood by striking a conversation with auto driver. He says he's Govinda fan too and Pushpa asks him to play a song. He plays it and Pushpa enjoys it with Rashi.
Pushpa and others notice Rashi still upset and sends her with her brithers. She goes to buy snacks for them where Bhavana and Kokila ask her about not coming to court. Pushpa says its not mandatory for her to not have snacks just because she didn't win the case and asks for jalebi and papad instead of samosas.
Ashavari comes there and offers to take the snacks to Pushpa's house as Pushpa wants to visit Radha Kaki. Bapodhara comes there and taunts Pushpa saying that he will have enough sweets after winning the case the next day. Chirag and Ashwin apologize Rashi for not giving her the assurance that she could come to them when she's in trouble. Rashi says she was scared and Ashavari brings the snacks to them.
Pushpa goes to meet Kaku where Mahendra and Aamir Bhai were present too. They asks why didn't she come to court today for which Pushpa hesitates and says whatever happened. They understand the situation and prays that every thing goes well the next day. Pushpa comes back home when Sonali and Manish comes there. They both hug Rashi and praise her for being brave like Pushpa.
Sonali and Manish supports Pushpa and family in their tough time when Manish asks for the snacks. Pushpa asks Sonal to pray for her to win the case. Ashwin comes to Baskar and learns that he's returning soon. He tricks him to get the ticket and takes away saying that he's extending the date making Ashavari and her mother in law. Pramod calls Ashwin as Aryan's father and cuts the call asking him to meet him.
Precap : Pushpa will be scared about the court's decision. Bapodhara will outsmart Pushpa while Aamir Bhai will go speechless. Judge will be about to give judgement in favour of Bapodhara.
Click to read