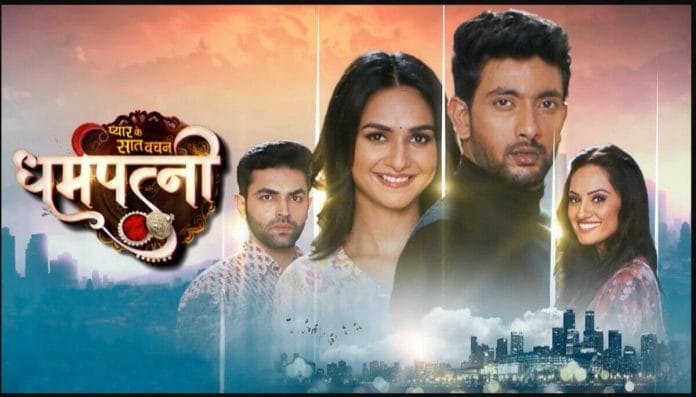 Pyar Ke Saath Vachan Dharampatnii 18th January 2023 Written Update on TellyExpress.com
In today's episode, Ravi's father comes to meet him in his room. Ravi tells him that Keerti has come to see him again. Ravi's father asks Ravi how is he. He also says that he misses the old cheerful and carefree Ravi. He mentions about the automobile buisness which Ravi wanted to do much earlier. He gives the papers to Ravi and asks him to sign. Ravi sees Keerti Industries pvt Ltd is written in the document. Ravi becomes happy and says that he will sign on it immediately.
Malhar clicks his pictures in the police station and hopes that his senior will come to praise him for handling the high profile murder case well. He thinks about Pratiksha 's misery but thinks that she should do this much sacrifice for her would be husband. Pratik comes there. Malhar thinks that he has come to apologise to him. He asks him to not apologies as they both are part of a family. Pratik tells him that he doesn't even matter to him and he has come to meet Pratiksha only. Malhar thinks that he will teach lesson to Pratik once he becomes Pratiksha 's husband. The guy who saved Kinjal and Parul from Kavya's warth asks for a thank you.
Kinjal asks Parul to leave and says thanks to him. The guy tells Kinjal that he wants to marry her. He expresses his feelings for Kinjal. Kinjal slaps him and asks him to stop daydreaming. Pratik meets Pratiksha. Pratiksha says him sorry and that she didn't kill Keerti. Pratik says that he trusts her. He says that he is feeling helpless. Pratiksha asks him to not feel bad. Malhar hears their conversation. Pratik says that he will check all the CCTV footage of the hotel and says that police has missed a footage of the spot where Keerti's accident has occurred. He says that he won't let anything happen to Pratiksha even if he needs to appeal in supreme court.
Ravi sees his and Keerti's old photos. He recalls a memory when he tried to propose Keerti for marriage during their college days but couldn't due to nervousness. He again meets Keerti in his imagination. He hugs Keerti and says that he wants to freeze the moment. Keerti asks him if he wants to have kids. Ravi says no as Keerti's love for him will get divided. Keerti says that kids always multiply the love. They get romantic and starts pillow fight. Kavya comes there and sees that Ravi is doing pillow fight alone.
Malhar asks Raghu to forgive him and says that he wants to release Pratiksha from jail before Pratik. Raghu says that every proof is against Malhar. Malhar asks Raghu to help him. Raghu says that he will help if Malhar sacrifice something. Someone shoots. Ravi sees that Keerti is not there. He asks Kavya to leave and blames her for Keerti's departure. Kavya tries to bring him back to reality. Ravi says that he doesn't want to come back to reality but wants to stay with Keerti. Kavya tells Ravi that Keerti is no more. She says that she can't lose Ravi after Keerti. Ravi's mother hears their conversation. The episode ends.
Click to read