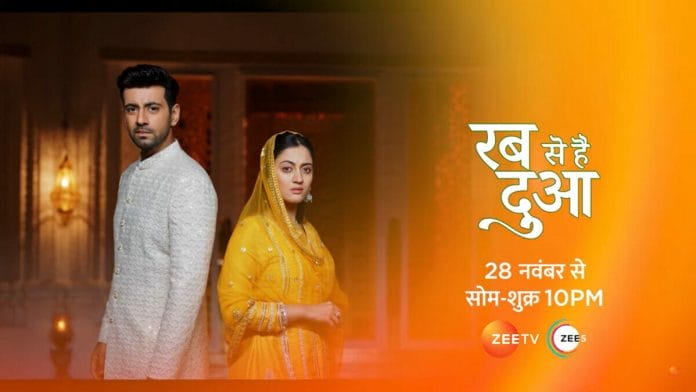 Rabb Se Hai Dua 19th January 2023 Written Update on TellyExpress.com
Episode starts with Gulnaaz spiking Dua's water in order to make her fall asleep. She then proceeds her plan and starts scaring Hina. She comes in front of the latter imposing to be Gazal's dead mother. The latter gets scared and tries to wake Dua up, but the latter was unconscious due to the effect of drugs. Hina got afraid and insists the spirit not to harm her son Haider. She proclaims that he haven't done anything and takes all the blame upon herself. Gulnaaz starts going out of the room and proclaims to take her revenge, while Hina follows her in order to stop her from harming Haider.
Here, Gulnaaz hides from Hina and keeps looking at the latter from her hidden spot. She then look at Gazal and signals her, while the latter nods and goes towards Hina. The latter cries standing in the middle of the hall and keeps crying recalling the past. She proclaims that it was her mistake and request the spirit not to harm her family.
Gazal comes towards Hina after seeing her emotional and tries to calm her down. The latter holds Gazal and says that she wants to tell her something related to her mother's death. She proclaims that she have hidden the truth from her but now her mother's spirit is haunting her. She starts revealing the truth that her misunderstanding lead to the death of Gazal's mother.
Elsewhere, Hina narrates that when Haider was small and they were newly shifted there. They met Gazal's parents and at that time Haider was also not well. Meanwhile, they saw Gazal's parents running along with Haider and tries to stop them but gets failed. She proclaims that she saw her mother but couldn't able to find Rehmani Or Haider.
Hina proclaims that she got worried for her son and thought that Gazal's parents tried to abduct Haider. She states that the people around them started beating Gazal's mother. She continues that she tried to stop them but gets unsuccessful and the latter died at the spot. And afterwards they found that Rehmani took Haider to the hospital as he was about to loose his life.
Ahead, Hina apologises to Gazal for her mistake while the latter gets furious and brings a stick to hit Hina's head. She gets furious at the latter but at that time Haider comes there and the latter pretends to look after Hina. He gets worried for his mother and takes her back to the room. He makes her calm, while she lies to him about going out of her room.
Gulnaaz pretends his concern towards Hina and then sees the fog coming out of Dua's mouth due to the drug effects. She immediately wipes it, while Haider gets confused as Dua didn't wake up. He gets upset with her behavior without knowing about the truth. Hina assures that she will be fine and sends Haider back to his room.
Further, Gulnaaz instigates Haider against Dua but the latter ignores her. Meanwhile, Gulnaaz goes inside Gazal's room and fakes her concern towards the latter while she recalls Hina's confession and takes the knife in her hands. Whereas, Dua wakes up with a heavy head and sees Hina sitting on the bed being worried. The latter says that she did a big mistake by telling the truth in front of Gazal, while Dua also gets shocked by the revelation.
The episode ends.
Also Check: