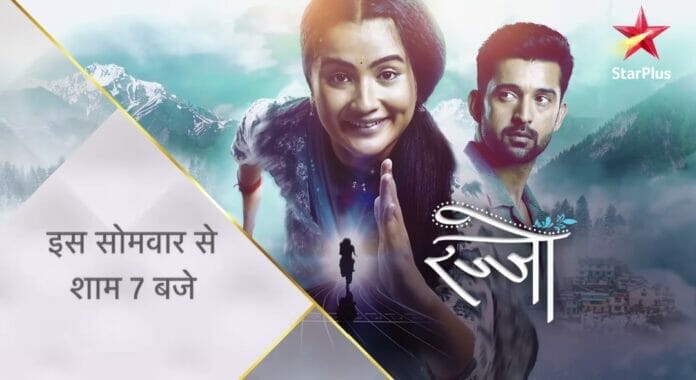 Rajjo 11th November 2022 Written Update on TellyExpress.com
The episode starts with Arjun and Rajjo running in the road. Har har maidan fateh plays in the BG. Sagar and Mukund follow them on bike, covering their race on the phone. On the other hand, Urvashi apologizes to Chirag for stopping Sia. She says that he is hurting Arjun, who always supported him by supporting Rajjo. Chirag says that Arjun knows him better. He also knows that he is wrong, as he isn't playing with sportsmanship. He says that he can never be on a team who cheats in sports. Thakurs see a short video in which Arjun is running ahead of Rajjo and get happy. They are sure that Arjun will win the race. Kalindi takes Chirag aside and asks what Urvashi told him to know if she told him about her affair with Sagar.
Chirag asks Urvashi why she seems scared. He says that he never saw her scared before. He asks if Urvashi told her something. Kalindi denies that and says that they get along very well. She asks Chirag not to fight with Urvashi as she's Madhu's favorite. She says that she doesn't want Madhu to ignore them again because of this.
Mukund says to Sagar that there's a tough competition between Arjun and Rajjo and they will know who will know who will win the race at the last moment. They drive off to tell the same to the family. Rajjo slows down as dust goes into her eyes. Arjun is concerned about Rajjo seeing this. He thinks that he can't pity her innocent face as it's all fake. Rajjo recalls Mr. Sinha's advice and runs.
The Thakurs are holding the red ribbon. Arjun runs ahead of Rajjo. The Thakurs cheer for Arjun. But at the last moment, Rajjo runs ahead of Arjun and Rajjo touches the ribbon first and wins the race, shocking Arjun and Thakurs. Chirag congratulates Rajjo. Rajjo celebrates her victory by dancing with Sia. Rajjo mocks Arjun for losing to her. Suddenly, Arjun faints, shocking everyone. They get worried about Arjun. They take him in the car to the hospital. Urvashi prevents Rajjo from getting into the car and pushes her down. Rajjo runs to reach the hospital.
At the hospital, the doctor starts to treat Arjun. Pushar assures the Thakurs that he arranged for the best doctors at the hospital to treat Arjun. Just then, Rajjo arrives at the hospital and asks Kalindi about Arjun. She begs Kalindi to say in which room he is. Pushar fumes in a rage seeing this. Kalindi shows Rajjo the room in which Arjun is there. Rajjo runs to see Arjun. Madhu and Urvashi prevent Rajjo from seeing Arjun. Madhu and Urvashi blame Rajjo for Arjun's condition and lash out at her. Rajjo begs Madhu to allow her once to see Arjun. Madhu pushes Rajjo down. She says that Arjun is no one to Rajjo. He always belongs to Urvashi. She asks Rajjo to get out. Urvashi asks the security guard to take Rajjo away and not to let her come near Arjun's room, as Pushar said that Rajjo is dangerous for him. The security obliges. Rajjo recalls her words to Arjun and regrets it. She prays to God for Arjun's recovery. The security guard asks Rajjo to leave. Rajjo refuses to move, stating that it's a hospital and anyone can come. She reminds him that he was only asked to keep her away from Arjun's room.
Pushkar scolds Kalindi for talking with Rajjo and asks her to hate Rajjo as Madhu hates her. The doctor finds poison effects on Arjun's body and thinks that it could be because of the medicine he is taking for his kidney. They decide to take some tests to find it out. Madhu cries at seeing Arjun lying unconscious. Rajjo thinks of finding another way to see Arjun, as the Thakurs won't let her go near Arjun's ward. Rajjo sees a wardboy taking the medicine under the moving table. She hides under it. The security guard sees Rajjo is missing and goes out to check. Rajjo sees Arjun lying unconscious with an oxygen mask on him, hiding through the glass door.
The episode ends.
Precap: Rajjo talks to an unconscious Arjun and asks him to wake up to scold her. She kisses on his forehead. Kaka says to Rajjo that Manorama will be thrown out of the hospital if they pay the fee. The diwali race is their last hope. Rajjo says that she will handle both relationship.
Click to read