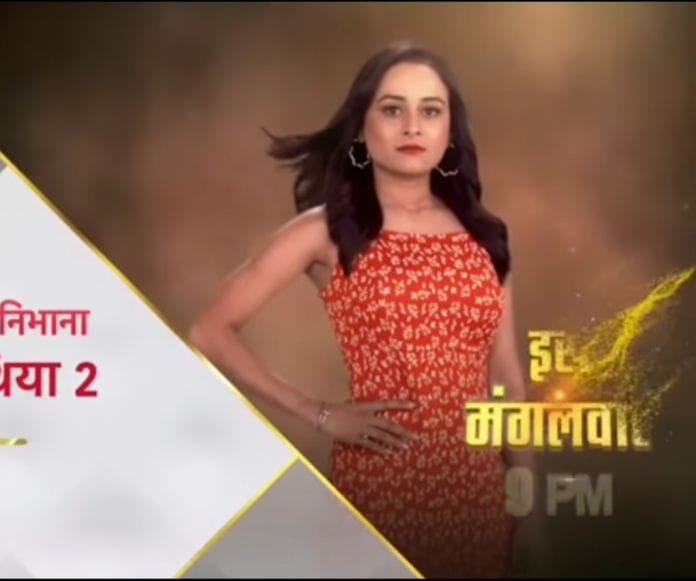 Saath Nibhana Saathiya 2 26th May 2022 Written Update on TellyExpress.com
Episode begins with Dadi wakes Suhani and Sarika. Sarika gets irritated that no one letting her sleep. Dadi says that she just came to see them. Dada asks Sarika to sleep and leaves the room. Dadi asks that who tied red lemon. Sarika gets shocked seeing that and says that it proves that there is a ghost in the house. Dadi says that she already said that and leaves the room.
Sarika tells Suhani that the latter really saw Urmila's ghost. Suhani asks her to leave Urmila's ghost and think about Kaddu. She tells her to go to store room and bring things. Sarika asks her that what if Urmila's ghost is there. Suhani tells her that Surya would have helped her. Sarika refuses to go so Suhani decides to go.
Gehna gives shawl to Urmila. They hides in the store room. Suhani comes there and the door gets locked which shocks her. She notices that smoke coming and lights goes off. She asks to open the door. She sees Urmila's ghost and faints. Gehna and Urmila smiles seeing that. Urmila hides there. Gehna wakes Suhani up and asks her that what happened. Suhani talks about Urmila without taking her name. Gehna asks her that who came. Suhani leaves from there. Gehna praises Urmila's acting. Urmila tells her that she is getting late and leaves from there.
Sarika collides with Urmila and follows her. She stops her and asks her that who is she. Urmila remains silent. Gehna comes there and asks that what happened. Sarika asks Gehna that if the latter knows Urmila. Urmila tells her that she came to meet Suhani. She hides behind the pillar when Suhani called Sarika. Sarika moves from there. Gehna shows thumps up to Urmila.
Suhani wonders that how she is going to handle both Urmila's ghost and Kaddu. She gets scared seeing the shadow. But Sarika enters the room. Suhani pushes Sarika and apologizes to her. She tells her that she saw Urmila's ghost in the store room. Sarika gets scared and asks her that how Urmila looks. Suhani shows Urmila's picture to her. Sarika tells her that she saw Urmila today only and she is sure that Urmila is not a ghost. She adds that even Gehna was there when she talked to Urmila. Gehna and Dadi hears everything. Sarika calls Gehna and asks about Urmila. Gehna says that Sarika was talking alone. Dadi says that it looks like Sarika also saw a ghost.
After some time, Dada and Dadi sends Surya and Gehna to the garden. Gehna asks Surya that if he is counting the stars. He tells her that he never saw a shooting star. They argues with each other. They sees a shooting star and make a wish. They stares each other. She asks him about his wish. He tells her that he asked for her happiness. He asks her about her wish. She tells him that she asked for his support forever.
Episode ends.
Precap – Gehna asks Suhani that where is the CD. Suhani asks her that the latter talking about which CD. Surya asks Gehna that why she is doing all this to stop the divorce.
Click to read