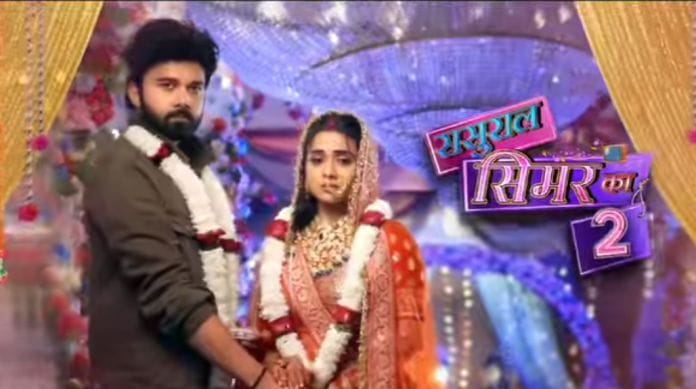 Sasural Simar Ka 2 12th May 2022 Written Update on TellyExpress.com
At the beginning of the episode Geetanjali tells everyone that today Aditi is going to come for the Pagphare ceremony. She asks Vivaan to go to Aditi's house after having food. He says ok. Gajendra says that today Simar has probably made paneer curry. Aarav says that perhaps Simar has not prepared the food today as he knows the smell of Simar's hand made food. Dhami comes there and says that she has prepared this food.
Geetanjali gets angry hearing this. She asks Maharaj ji to distribute this food among the poor. Dhami asks her why is she doing all this. Geetanjali clarifies that she does not want to eat her hand cooked food. Dhami says that she has thrown Simar's cooked food. Aarav is about to leave from there. Dhami threatens him that if he will not eat it then Simar will harm Simar.
Aarav gets scared hearing this. He starts eating. Then he starts coughing. Simar tells him that if he doesn't feel like eating it, then he shouldn't. She further asks Maharaj ji to bring food from the kitchen as she did not allow Dhami to throw away the food. Next everyone eats Simar's hand-cooked food and praises her. Reema tells Dhami that her sister is the queen of the kitchen.
Next there comes Aditi. Sandhya and everyone else gets happy seeing her. Simar is welcoming Aditi but Dhami stops her and says that she is Aditi's sister-in-law so she will welcome her. Aditi says that her sister-in-law is only Simar. Saying this she takes the plate of Aarti from her hand. Aditi starts feeling dizzy. Simar says that she should bring milk for Aditi.
Dhami mixes something in the milk. Simar brings that milk to Aditi. Aditi is drinking that milk. Dhami gets happy seeing this. Aditi's health deteriorates further. Simar asks her if she is fine. Everyone gets upset seeing Aditi's condition. Simar looks at Dhami. While Aditi tells Simar that she had put pistachios in milk which got stuck in her throat.
Dhami is shocked to hear this. She goes to the kitchen. Simar comes after her. She remembers that she saw Dhami mixing something in milk. Simar tells Dhami that she knew she was going to do something like this so she was already alert. She says that she will not let anything happen to her family. Dhami says that she will not be able to harm her. Simar says that she should not underestimate her. Simar further goes to Reema and says that they have to find evidence against Dhami. Reema agrees with her. Later Simar asks Vivaan to tell her the truth.
Click to read