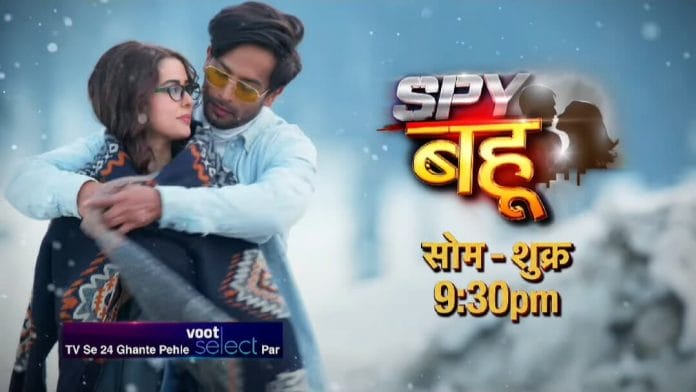 Spy Bahu 14th September 2022 Written Update on TellyExpress.com
The episode starts with everyone finishing the hawan and Sejal wonders if Veera will check out the skeleton. She hopes to catch her red handed. Veera tells Arun she has some work and goes aside. Sejal follows her. Veera calls Yohan and tells him about opening new computer laboratory for the kids. They leave from the room. Sejal remembers it as the place where skeleton used to be. She checks the cupboards but finds nothing.
Veera thanks Sejal for suggesting to do Puja and says she feels really nice and advises to go home as Sejal might be tired. Sejal feels disappointed as her plan failed. While entering Nanda Mansion Sejal sees Goddess Durga idol and prays for her to show her some way. Yohan tells Sejal that he doesn't believe in god but today he felt that God was giving blessings. He tells blessings was for Sejal and he is sure their baby is going to be healthy. Sejal tells she will light up the diya and come inside. She goes to pray to Goddess.
Sejal asks Goddess to show her some clue so that she can expose Veera's game. Chunri placed on idol flies away. Sejal goes to get it and finds the door to basement. She goes inside and is shocked to find out the skeleton hidden there. Sejal comes back to Nanda Mansion and finds Veera putting garland on Aarti's photograph with Arun and Yohan standing by her. Sejal taunts Veera and indirectly talks about Aarti's skeleton being at basement. Veera is stunned. At room, Veera shouts and tells Ahana that Sejal has found the location of skeleton. She tells how she had thought Sejal will never look for it inside the house.
Sejal informs Harsh about finding the skeleton and plans to show it to Yohan when Veera goes to remove it from the basement. Veera tells Ahana that at night they will change the position of skeleton and then tackle with Sejal. Arbaaz keeps calling Ahana. Veera asks her to receive and puts it on loudspeaker. Arbaaz asks her to bring 20 lakhs and also to do niqaah with him the next day or else he will expose her truth. Ahana acts and says she will do as he says. Later Veera tells Ahana to finish Arbaaz the next day.
Sejal sees Veera's transmitter location on her phone and thinks she has already left from basement. Veera places skeleton inside her car and tells it that she doesn't have her favorite cake but feeds chocolate. Ahana tells her to stop talking to skeleton and do their work or else they might get caught. Veera tells how she had killed Aarti herself and skeleton is the trophy of her achievements. They leave the place. The episode ends with Yohan shown hearing and watching everything Veera had said and is shocked to know his mother Aarti was killed by Veera.
Click to read