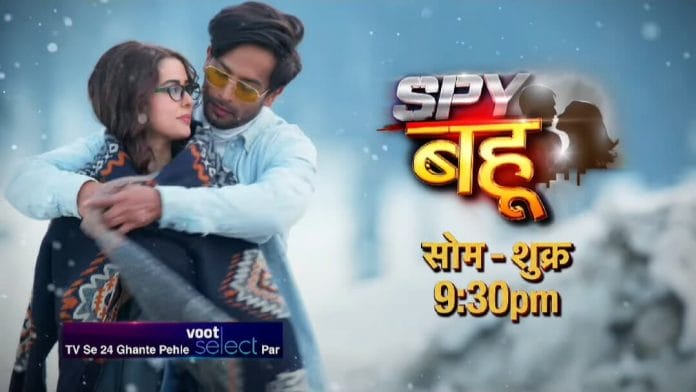 Spy Bahu 20th September 2022 Written Update on TellyExpress.com
The episode starts with Ahana in basement and Shalini starts making her scared. She tries to escape but finds room door closed. Shalini acts like spirit and warns Ahana that she will take her revenge. Shalini keeps making her more scared and asks why did they kill her. Ahana tells she hasn't done anything and finally runs out from the basement . After she leaves, Yohan and Sejal come there. Shalini asks them about the next plan. Sejal tells its important to know what their next mission is.
Yohan tells Arun, Krish and Veera has left for puja for Shalini's soul. Now Ahana is alone at home with them and they should make use of this to make her tell the truth. Yohan comes to Ahana and gives her medicine. Ahana tells him not to leave her alone as Shalini's spirit keeps haunting her as soon as she closes her eyes. Yohan tells spirit can come even in his presence and then says he was just joking. He convinces Ahana to rest and leaves from the room.
Shalini comes to Ahana's room dressed in manjulika attire. Ahana wakes up and finds her hands locked with the bed. She screams being afraid. Its shown how Yohan and Sejal are instructing Shalini to do everything. Yohan lifts the bed up making Ahana more scared. Sejal on Bluetooth tells Shalini what she has to say. Shalini asks Ahana to tell what her plan is to hide which they killed her. Being afraid Ahana tells about the attack on Ganesh Chaturthi planned by Sir ji at Nanda Mansion. Shalini asks again who is Sirji and Ahana says its Veera Nanda. Yohan lifts her bed down again. She runs away from room calling Veera.
Yohan and Sejal get the recording of Ahana's confession and thinks to submit it to police once they catch Veera red handed. Krish, Arun and Veera return back home. Veera asks Sejal if Drishti and Mahira slept. Sejal tells Mahira was with them. Veera says she was resting at home as she had fever. Sejal tells she wasn't in room when she took food earlier. Veera wonders where did Ahana go. Arun says that one who are making idol for Ganesh chaturthi cannot come to deliver it because of rain. Yohan says he will go and bring it. Yohan and Sejal pretend to argue which makes Veera happy.
Sejal tells Yohan to be careful and feels worried as he will be driving alone at rainy night. Yohan asks her to take care and leaves. Sejal's mangalsutra breaks and she feels uneasy. Drishti comes there and thanks Sejal for making her health better. Shalini comes there and says she is bored being the spirit.
Sejal asks both of them to help her check all the materials that are being brought for Ganesh Utsav at home. Sejal dresses Shalini in villagers dress and hides her face with long pallu. She tells Arun that she is from village and had taken lot of care of her back then. Arun asks her to stay for puja. The episode ends with Veera being worried when Sejal and Drishti say about helping in preparations.
Click to read