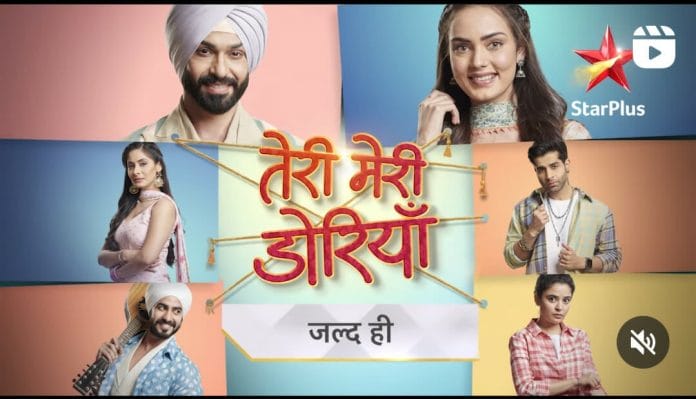 Teri Meri Doriyaann 17th January 2023 Written Update on TellyExpress.com
The episode starts with the Doctor checking Seerat. Gurleen asks Santosh why are you tense. Santosh says she is worried, not tense. The doctor says there is nothing to worry about. Santosh says her daughter is fine. The doctor says she had to do a few tests to know the reason behind the pain. Santosh says she will take Seerat to their family Doctor. Seerat says sorry for troubling you guys and now we shall go. Jasleen thinks she can't let them leave until she finds out who are they. Jasleen request Santosh and Seerat to wait for some time and tells Seerat that she has to collect her competition gift. Seerat agrees. Jasleen sends Gurleen and Manveer and says she will take care of them.
Later, Angad announces Seerat as the winner. Seerat jumps in happiness and goes to the stage to collect the pendant. Jasleen doubts Seerat intentions. Angad takes Seerat's permission and makes her wear the pendant. Santosh records everything on her phone and prays to god to send Seerat to the Brar family as their daughter in law. Manveer looks unhappy. Kiara tells Garry that judgment is unfair. Garry says everything is fair in love and war and she impressed Angad with her beauty. Veer says Garry is correct and it's visible in Angad's eyes that he likes her. He leaves. Kiara asks Garry what's he planning as there is something in his eyes. Garry says she will know soon.
At home, Sahiba thinks about why Seerat and Santosh didn't return home. Ajit says your mom must be busy clearing the mess, now, and did she tell you when she returns? Sahiba thinks she can't tell her father about the humiliation she faced. She asks him to call Santosh to know when they return.
Kiara asks everyone to have dinner. Angad asks Seerat what she wants to have. Seerat says her taste is different and tells him she wants to drink aloe vera juice with ginger. Angad asks the servant to bring special juice. Angad asks Seerat to tell her about her routine. She says she wakes up at 10.
He is taken a back. Seerat notices his change and lies to him that she woke up from the yoga mat at 10 and does other works. She asks what kind of lady he likes. Angad says he likes hardworking girls and hates woman who searches for shortcuts to progress in life and who misuse their beauty. Seerat feels tense. Angad says I'm glad you're not that kind of person. Santosh feels happy seeing them and imagines Angad marrying Seerat. Jasleen goes to Santosh and asks where she lost. She points to her phone ringing.
Santosh cuts the call seeing her husband's call. Jasleen asks why she disconnected the call. Santosh says it's the call of the media who want Seerat's interview. Ajit and Sahiba feel worried. Santosh notices Manveer is not happy with Seerat. Manveer calls Angad to attend to other guests too. Angad says he will arrange a car for them to leave. Kirat comes there and says the car came. Seerat says our car is coming so you can attend the guests and we will leave. Jasleen asks Angad to leave and says she will give send off to his special guest. Angad says bye to her and leaves.
Santosh attends the call and says we are coming bubblu. Ajit thinks who's Bubblu? Kirat says Kulchu come here. Santosh says they have many drivers so she forgets their names. Jasleen says she understood. They leave. Jasleen comes out and notices Seerat and her family are leaving in an auto. She decides to not tell anyone about Seerat's reality.
Episode ends.
Precap – Angad while sleeping on the bed area earring. Angad thinks there is something special in Seerat. Aunt asks Sahiba where are her earrings. Sahiba says the last time she saw her earrings are when she gave them to Seerat. Sahiba decides to search for the earrings. Santosh says Seerat will find the earrings and bring them back as she lost them. Seerat leaves to the Brar mansion. Sahiba sees that Seerat left her phone here so she decides to go to Brar mansion as she doesn't trust the Brar's. Angad stops Sahiba from entering their house.
Click to read