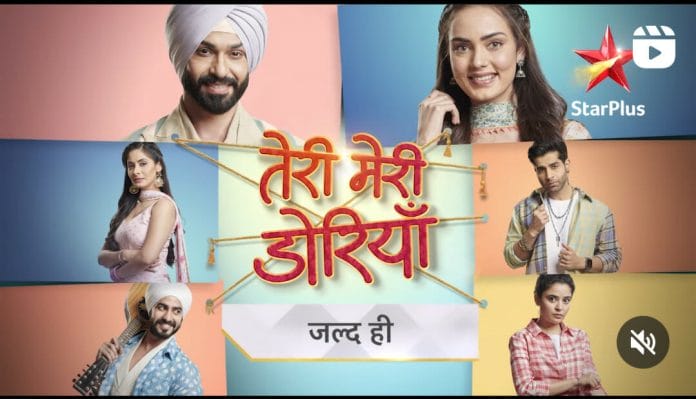 Teri Meri Doriyaann 8th January 2023 Written Update on TellyExpress.com
The episode starts with Angad watching the video news with Jaspal in which they say that today's function is not going to happen. Angad says to Jaspal that this news channel is the one that first reported this news and says to Jaspal that he wants the phone no of this news channel. Jaspal agrees.
Shahana is shown to be painting for decoration. Angad calls Mr. Aman Dhillon the news channel owner and talks to him for a while and convinces him to give the phone no of the one who called the news channel. Aman doesn't agree at first but he later gets convinced with Angad and decides to give him the phone no. Angad shares the guest list of their function in return with the news channel.
Angad asks Jaspal if Prabhjot and Hansraj went to Gurudwara or not. Jaspal video calls Pravjot and asks them if they reached Gurudwara or not. Pravjot shows the Gurudwara and says Hansraj went inside to bring Guru Maharaj.
Hansraj comes out with Guru Maharaj and Pravjot shows the video to Jaspal and Angad. Pravjot says they will reach in half an hour. Angad decides to go and see what Shahiba is doing.
Angad knocks on the door but Shahiba says the art has not been completed and says once the work is finished she will call them.
Angad goes into the room after taking off his shoes. Angad says to Sahiba there is no time and says the prayer will start in half an hour. Sahiba argues with him. Sahiba takes off the chandelier and it slips her hand and falls. Angad asks Sahiba if she is crazy and why is there mud here. Kiara comes and asks Angad if she knows what she is doing? Sahiba sees that Kiara is wearing heels and asks her to get out. Sahiba gives the them clarity saying that the art they showed in it mud is used and says it is called mud and mirror art. Sahiba says this is not mud but clay to Angad. Sahiba tells them not to disturb them and says if she gets disturbed again then she will leave the house. Kiara and Angad leave from there hearing this.
Akaal calls everyone to the pool and to find out who is the one that leaked the news that there is going to be no function today. Akaal first asks his family if they sent the news to the others. The family members says that they didn't tell the news anyone. Akaal asks his servants if they told the news to anyone. The main servant says they didn't betray the owner and says to Akaal that they can check their phone if they want. Jasleen stops them and says it is unfair if only their phones are checked. Akaal says her phone will also be checked. Jasleen says if her phone is checked then he needs to check Inder's phone also and says only he has he reason to go against him. Jabjyot defends Inder saying he would never do anything like that and says nobody's phone will be checked. The servants leave from there.
Jabjyot asks Akaal what willl he get by doing this. Akaal says the person who sent this message will learn a lesson what will happen if he does something like this. Jasleen says to Akaal that if today's event fails it's only because of Angad.
All the family members come to see the art work of Sahiba. Akaal apologises to Jabjyot that he couldn't give her favourite gift this year. Jasleen and Gary comment on her artwork. Angad comes to Shahiba and asks her if this is what she did? Angad reminds Sahiba that she showed the dream of Palace but she made ruins here. Angad apologises to Akaal and says it is his mistake.
Sahiba opens the window for the sunlight to enter. Once sunlight falls on the art work and it's reflects a beautiful design. Sahiba says to Angad that haste is the work of devil and he hastily decided her work so he should know what he is. Jabjyot and Akaal praise Sahiba's artwork. Jabjyot says to Akaal this girl worked wonders. Akaal says true, I have never seen it before. Jabjyot says this reminds me of Multan. Akaal says see such divine light has spread all over this house. Jabjyot says her mother used to do artwork on the walls like Sahiba. Sahiba says mothers are the biggest artists and they do something to protect us from evil eyes and this artwork is still prevalent in some houses. Akaal says your work is priceless. He thanks Sahiba for making his wife happy. He says you made Jabjyot feel nostalgic with your work. He blesses her.
Jaspal says to Angad your effort paid off as Dad is happy. He says he will check till where Hansraj and Pravjot have reached. Jabjyot feels emotional. Gurleen says to Angad " Sahiba does magic with her artwork and it's awesome". Manveer says but it's Angad who has brought her here. She asks Jasleen "won't you appreciate my son's move? Jasleen says we have to praise Angad's fate as his luck was with him and the girl did the work or else. Manveer says luck supports people whose actions and not words are weighted and inky a gemologist can assess a true diamond. Jasleen says really? Angad stops them. He says no need to compare her work with a diamond, I agree she did the work before time but that doesn't mean that. Veer says look carefully, Sahiba has done beautiful artwork. He praises Sahiba's work. Sahiba says beauty is in the eyes kg the beholder and some people can't see it.
Episode ends.
Precap – Guests praise the decorations. Gurleen says to praise Angad for these decorations. Akaal says Sahiba is the one to be praised, not Angad. Angad says to Sahiba 'excuse me, this is my house. Sahiba says so, You can't bump into things. Angad asks do you know who I'm? Sahiba says you people are rich so have almonds for good memory, at least you will not ask people who you're, and this may be your house but you can't walk around blindly. She collects her things on the floor. Angad asks how can she talk to him in that way. She turns and color falls on his clothes.
Click to read