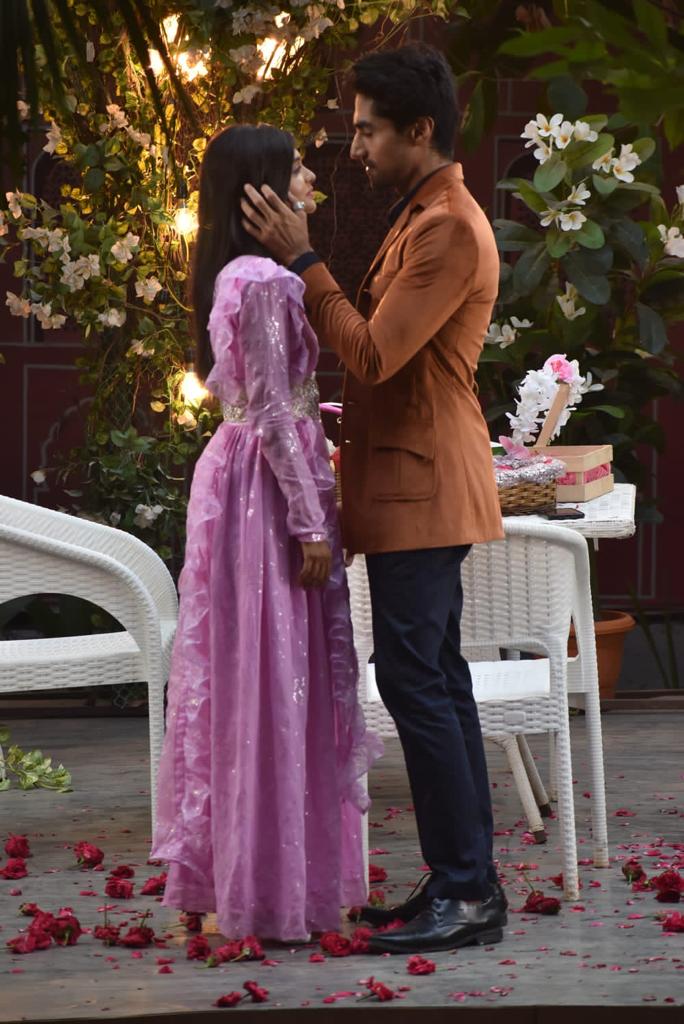 Yeh Rishta Kya Kehlata Hai 22nd June 2022 Written Update on TellyExpress.com
In today's episode, Abhimanyu asks Akshara if she will not tell than he will disclose. Goenka's stands stressed. Abhimanyu says Akshara is taunting him for coming late despite knowing he is in busy profession. Swarna and Manish says to Abhimanyu that they got scared thinking if something big has happened. Akshara and Abhimanyu sit on the swing. Swarna performs a ritual. Akshara and Abhimanyu fall down from the swing. Both worry for each other. Goenka's and Birla's laugh. Swarna says evil eyes are finally off from Abhimanyu and Akshara.
Harsh asks Anand to inform him if anything happen at the hospital. Anand asks Harsh to stop troubling him as this is his 12th call since morning. Harsh gets irked and scolds house helper from not working properly. Goenka's asks Akshara and Abhimanyu to take off the confetti from their dress as they will get stuck to their body.
Arohi asks Neil if his mind is little diverted. She gives gift to Neil and informs Swarna has prepared specially for him. Neil asks Arohi to thanks Swarna. Arohi asks Neil if he will join Birla hospital back or not. Neil says he didn't thought on the same. Arohi asks Neil if he didn't discussed with Abhimanyu. Neil informs Abhimanyu is angry with him. Arohi instigate Neil against Abhimanyu and says latter is not angry but jealous. Neil refuses to believe. Arohi says she has been through the same situation. Neil thinks upon Arohi's word.
Abhimanyu and Akshara help each other in taking out the confetti. Abhimanyu asks Akshara if she is not in pain by pretending in front of their family that they are happy. Akshara asks for Abhimanyu not to spoil the mood of the family. Abhimanyu gets adamant. Akshara asks Abhimanyu to do whatever he wants. Abhimanyu leaves the place.
Arohi learns something is wrong between Akshara and Abhimanyu. Elsewhere, Manjiri apologize to Akshara for her past experience. She asks Akshara if she isn't upset with her. Akshara says to Manjiri that she isn't upset with her. Manjiri gives sorry card to Akshara. Akshara hugs Manjiri.
Akhilesh asks Manish to explain about the game. Manish explains the importance of bangles and the game. He asks couple out there to choose perfect bangles for their partner. Goenka's makes a team with Birla's. Competition starts. Akshara tries to convince Abhimanyu to play the game for their family sake. Abhimanyu refuse to pretend being happy despite sharing differences with Akshara. Akshara asks Abhimanyu to play the game as a team and not like a couple. Abhimanyu gets angry and decide to show his competitive side to Akshara. [Episode Ends]
Precap: Abhimanyu makes Akshara wear bangles. Akshara gets hurt with the bangles. Abhimanyu tries to help Akshara
Also See: